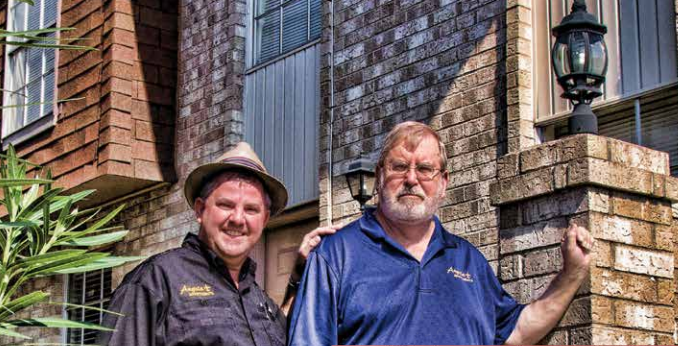 Mr. Real Estate
About Angele Apartments
Angele Apartments is an independent owner and operator of residential properties in Jefferson Parish. Angele owns a total of 25 properties, including 14 apartment buildings, for a total of 162 units. In the late 1960s, homebuilder Ted Kraft, the founder of Angele Apartments, developed much of the land on Lake Ave. in Metairie, including 12 of Angele's buildings. His son Michael Kraft took over the company after Hurricane Katrina and continues to run Angele today.
"Bread and Butter" Apartments
Michael Kraft describes Angele's apartments as "bread and butter apartments for working people." He takes pride in offering his tenants a clean and safe place to live for an affordable price. He also uses words such as "economical" and "no frills" to describe his apartments, meaning that people aren't paying an added premium for features that they don't really need. But this does not mean that Kraft does not take care of his properties or his tenants. In fact, it's just the opposite: his staff promptly responds to repair requests, and he cleans and repaints every apartment before new tenants move in. Additionally, Angele performs background checks on all new tenants to ensure the safety of the other tenants.
A Fine-Tuned Machine
There are a lot of moving parts at Angele Apartments. While Michael Kraft oversees all operations, he has four staff members, including a full-time leasing manager and three full-time maintenance workers. With 162 units, responding to maintenance issues, preparing units for new tenants, and leasing to new tenants are everyday occurrences. Angele's maintenance team handles painting, flooring, and light electrical and plumbing. In addition to specific repairs, they also perform routine maintenance on the buildings: lawncare and painting the building exteriors. With all of the moving parts, Angele Apartments functions like a machine. Kraft and his team all work together to make sure that the machine keeps running.
Getting "The Machine" Back Up and Running
Angele's properties received significant damage during Hurricane Katrina in 2005. Michael Kraft was on the ground directly after the storm and performed a lot of the repair work himself. He worked to repair the 50 damaged units and to renovate the other units and buildings in the years following Katrina. In 2011, he completed the final storm-related renovations, and with those improvements done, Kraft was able to expand capacity and purchase another building in 2012. He is currently looking into acquiring another building, showing that Angele's business model makes for an efficient machine when it is running at full capacity.
Building a Community
Michael Kraft is proud of the community he has built in Angele Apartments. He hears of common issues that his colleagues in the rental business deal with–including damage to units and crime–but feels fortunate that he doesn't have these issues. He also feels strongly that by screening his tenants and by treating them with respect, he avoids some of these issues. He encourages a community atmosphere. While other rental companies bring in outside contractors to do repairs, Michael explained that by having his maintenance crew on staff, their presence helps build this community feeling.
← News and Insights