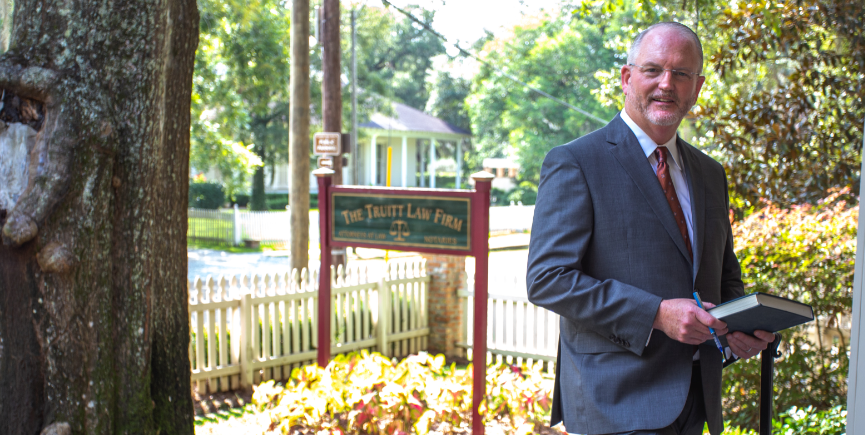 Historic brick buildings lining narrow two-lane roads, trees of every variety shading little cafes and boutique shops, and friendly faces everywhere you go: this is why Bobby Truitt, one of LCI's most trusted workers' comp case attorneys, loves living and working in Covington, Louisiana so very much.
He's lived in other places, but Bobby feels that picturesque downtown Covington is the perfect place to raise your family and live your life. Bobby Truitt was born in Corpus Christi, Texas, and his family eventually moved to Houston. Bobby's father worked in the oil industry, but he wanted to take his career in a better direction. "My dad went to law school at night while he was working for an oil company, and he eventually became a lawyer which I guess is the basis for why I wanted to be a lawyer. As it turns out, he did something that was vastly different than what I wanted to do; he did oil and gas law."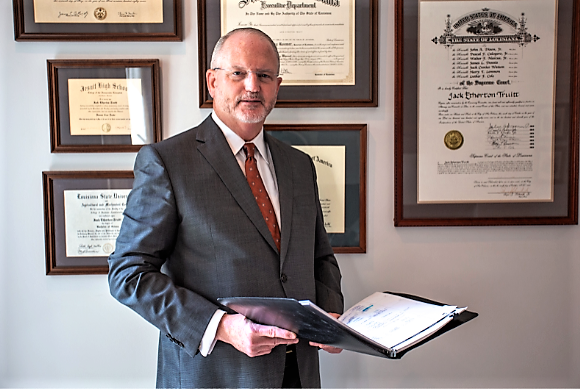 After a decade in Houston, Bobby's family moved to New Orleans. Bobby was enrolled at Jesuit High School and graduated in 1980. He then moved out to Baton Rouge to attend LSU's Business School. "I moved back home [after college], and my parents were getting divorced. I figured it was a good opportunity to hang out with mom and stay with her. It was also a good opportunity to go to Loyola and get a change of scenery," said Bobby. He tried to follow in his father's specialization, but he soon realized it just wasn't for him. "I took one course at Loyola Law School in oil and gas and decided pretty quickly that I didn't want to be in oil and gas law. I think it was kind of boring, cut-and-dry, and there really wasn't a lot of excitement to it, and I wanted to do something a little bit more exciting."
Into the Workforce
During his final year in law school, Bobby clerked for a large law firm in downtown New Orleans, the kind at which he wanted to begin his career. He started applying for jobs at major firms, but it wasn't going too well. "I joked that with all of the rejection letters, I probably could have wallpapered an entire room. I didn't get an offer from that firm, but I got an offer from a small firm in Metairie," he said.
Bobby made the leap to join the small firm specializing in general casualty and maritime work, but he was only there for a year before setting his sights on something bigger. "I saw that the firm was getting ready to implode. I was getting ready to go to another firm that was a start-up and took K-Mart and Tonti Properties with me as clients which was kind of a big deal. First-year lawyers don't have clients really," he said. Bobby stayed at the next firm for 10 years, and he enjoyed his time there. He gained experience working in workers' comp defense and premises liability, and he eventually became a partner. He found, however, that his fellow partners just didn't have the appetite for work that he had. "The partners were not really motivated to have the aggressive firm that I wanted to be a part of. So in the middle of the night myself and two of the associates spirited all of our stuff out and informed the firm the next day. Funny enough, it took those partners several days to realize we were gone. They were that disconnected from the firm," Bobby recounted.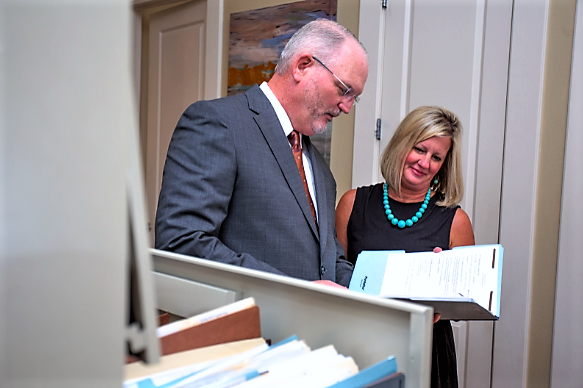 Bobby and the associates started their own firm, but it only lasted about a year. While they parted on good terms, Bobby knew that it was time for him to be his own boss. He opened the Covington-based Truitt Law Firm in 1997, and it has been a success for the Truitt family. Not only is the firm thriving, Bobby's family loves the small town community that Covington offers. "My wife of 17 years, the best woman on the face of the Earth, refers to Covington as The Island, and she doesn't like to go off The Island. Covington is just a better environment to raise your family. You can walk into a grocery store and see people you know, your neighbors and friends. It's really kind of Mayberry-ish. On the other side of the coin, there's great restaurants here like Del Porto and Oxlot," gleamed Bobby.
Town & Country
The community has benefitted from having Bobby and his family in it. He is the Chairman of the Board of the West St. Tammany YMCA, and LCI has enjoyed sponsoring their charity golf tournament. "We love having LCI as part of our defense portfolio. I enjoy working with the people. LCI is very laid back, very organic, I can get on a call with [Claims Manager] Yvonne Rosen and discuss the case. [Administrator] Mark Tullis and [Indemnity Adjuster] Ashton Oubre have been great to work with; it's been a long, productive, and successful relationship."
The Truitt Law Firm is located in old Covington in a home that has been beautifully restored. "I fell in love with it. I remember the building when I started practicing over here was just an apartment complex that was falling down. Some builders bought it and restored it. It's a raised cottage that's over a hundred years old. We outgrew that and were thinking, 'What are we going to do now?' So we built an addition in the back with LCI member Brandon Construction. They were the best builders that I ever worked with in my life."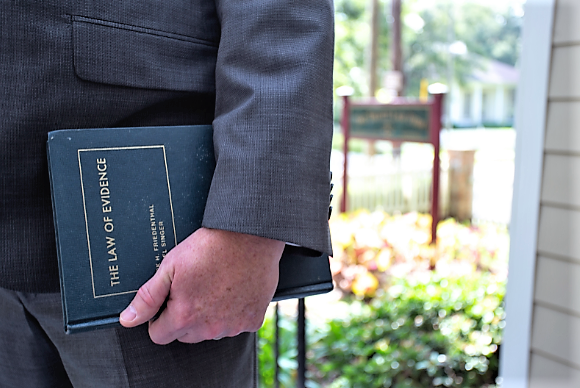 One of the reasons that Bobby enjoys the building is that it feels more like home than work. "It's really comfortable and warm; it's got two fireplaces, full kitchen, and full bath in it. I really built it with the mindset of if I ever outgrew it, I would be in a position to sell it to someone who could use it as a bed and breakfast or a mother-in-law house. It was interesting dealing with fire marshal. We were trying to swing it both commercial and residential."
Just Like Home
Bobby and his family live just outside of downtown Covington. However, when you work as many hours as a typical lawyer does, having a place of business that's as comfortable as home is paramount. "You live there basically. You spend the majority of your life in your office. I'm usually there from about 8 AM to 6:30 PM every weekday. You want to have all of your creature comforts there, so we have a full refrigerator of food and drinks. A comfortable place to work is what we have." It's not all work, work, work, though. Bobby and his employees bring in their families all the time. "Occasionally, I'll get in there and make my famous gumbo or my breakfast casserole. We recently had our annual firm crawfish boil, and it was a lot of fun. Our firm is family. I've got people that have been with me for 17 years, and I view everyone in our firm as a family member. I'm not looking for someone to just work, burn out, wash out, rinse, repeat. I want someone who's going to be there forever, if they want to be. We do things together a lot."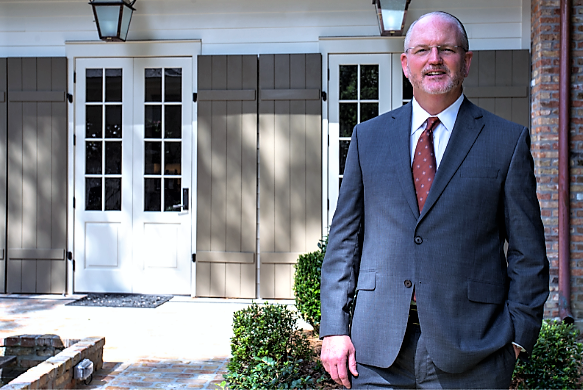 There's only one drawback to living and working in such an ideal setting. "This whole area is growing because people want this lifestyle so it's getting more and more crowded. This whole area has an environmental appeal too because of the ozone from the pine trees. Back in the day, they had ferries that would bring people across the lake to recover. The Southern Hotel which was rebuilt basically from scratch was a hotel back then, and people would stay there for that reason, to try and recuperate with ozone air." Similarly, for Bobby and his firm, working and living in such a great place is recuperative in its own way.
For more information about Bobby Truitt or The Truitt Law Firm, visit Truittlaw.com.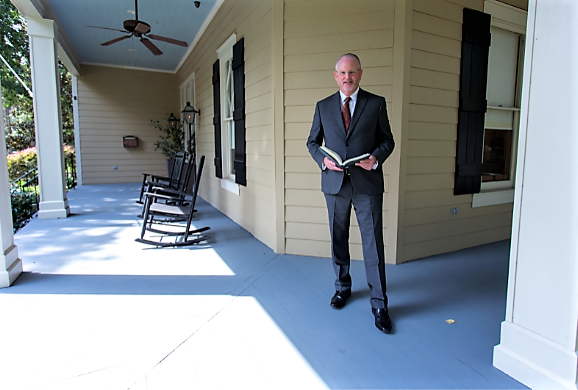 ← News and Insights