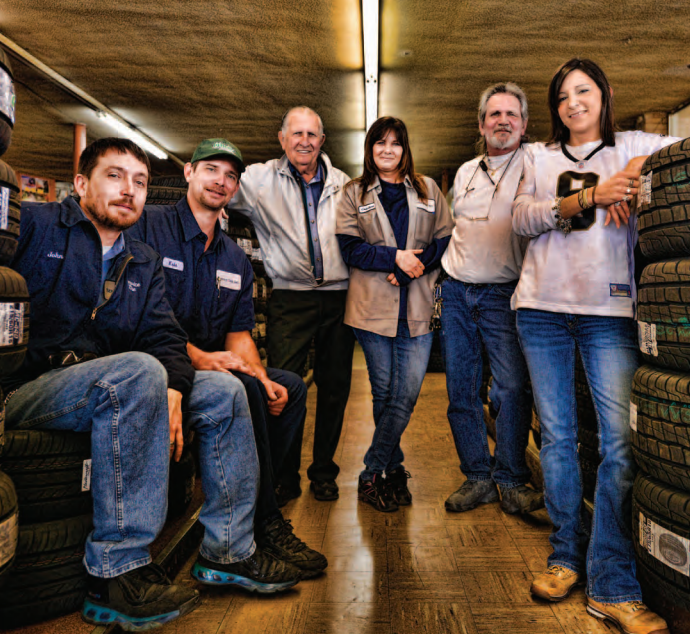 Never Tired of Family
About Service Tire
Based in Shreveport, Service Tire has been in the tire business since 1958. They provide tires for all types of cars including luxury cars, sports cars, and trucks. In addition to stocking tires, their service department offers alignments, brake service, water pumps, and radiators, among others.
55 Years in the Making
After serving in the military and working as a Service Manager for Firestore, James A. Parnell set out on his own in 1958. Through the years, Service Tire expanded to Texas and Arkansas, has since downsized, and today has two locations, both in Shreveport. Competing with large corporations has proven challenging, but Service Tire has remained resilient with the same goal as it had 55 years ago: to be a friendly, local tire shop who helps its customers stay safe on the road.
All in the Family
Little did he know at the time, but by starting Service Tire, James A. Parnell created a family business that would be passed on to future generations of Parnells. More than seven other members of his family, including his son and grandson, John David Parnell Sr. and John David Parnell Jr., currently work at Service Tire. James still goes to work every morning, moving tires and tracking inventory with John David Sr.
Life at Service Tire
The Parnells admit that mixing family and business can be challenging at times, but they make it work. They are able to overcome these trials, in part because all employees of Service Tire share a passion for auto repair. Whether selling tires to one of their many repeat customers or solving the latest challenge with a new customer in the service department, the Service Tire team approaches each customer with a smile, ready and willing to work on the next car that rolls in.
Get in Touch with Service Tire
Service Tire takes pride in being a local, family owned business. They would welcome the opportunity to do business with other LCIA Members. You can visit them at either of their two locations in Shreveport (3406 Hearne Avenue and 1033 W. 70th Street), or read about them on their website at www.servicetireinc.com.
← News and Insights