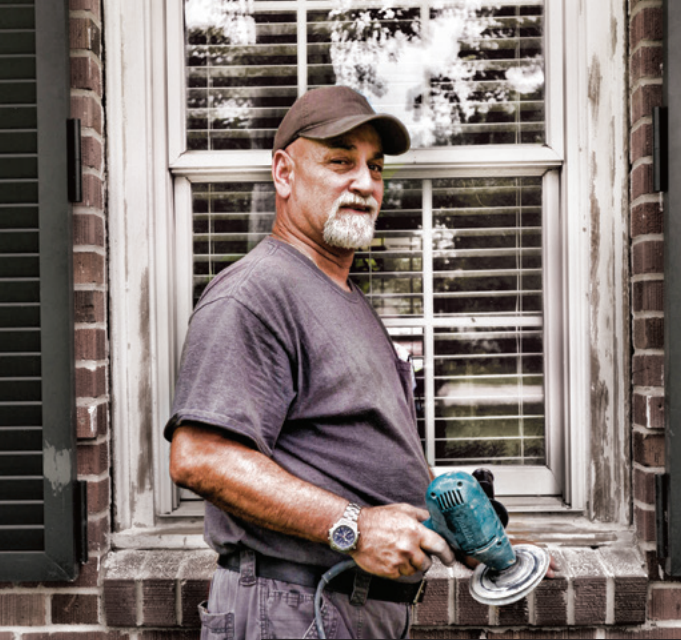 Anchored in Service
About Renovations Unlimited
Renovations Unlimited is a home renovation company based in Metairie and serving the entire New Orleans area. Owner and U.S. Navy Veteran George Tinney founded Renovations Unlimited in 1991. As promised by the company name, there are seemingly few limits to the services offered by Renovations Unlimited. George and his crew provide interior services such as sheetrock, painting, flooring, and stairs, as well as exterior services including windows, doors, siding, and gutters. George also hires licensed subcontractors, such as electricians and plumbers, as a job requires.
George Tinney: Seaman First Class
After graduating from high school, George Tinney enlisted in the United States Navy. He spent a total of six years—two on active duty and four as a reservist—as a Seaman First Class. After basic training, he spent time in San Diego, California receiving Interior Communications (IC) electrical training from the Navy. George was then assigned to an aircraft carrier stationed in Jacksonville, Florida, where he utilized his training in his IC role on the ship. The aircraft carrier deployed once while George was on it to perform a stint in the Mediterranean Sea. When he completed his Navy service, George decided to utilize his electrical training, and went to work for a home renovations contractor. This experience ultimately led to his founding of Renovations Unlimited.
Special Projects
Renovations Unlimited stays busy with its numerous renovation projects, but two projects stand out as being close to George Tinney's heart: The United States Marine and Air Force Recruiting Center and the American Legion building, both in Metairie. George explained that while he takes great pride in every job he does, given the personal connection, these two projects gave him a unique sense of joy. George also explained that the feeling was mutual, and that both clients enjoyed hiring a veteran-owned business to complete the work.
George and his crew performed a complete renovation of the Recruiting Center, giving the interior a needed update. They repainted the walls, installed new floors, updated the lighting, and remodeled the bathrooms. At the American Legion lodge, Unlimited Renovations' work focused on the exterior. George's team painted the trim, installed gutters, and landscaped the grounds.
American Legion Service
Throughout his civilian career, George Tinney has been an active member of the American Legion, Metairie Post 175. He has served as a Chaplin there for the past eight years, and he remains involved in whatever way he can. He explained that as a proud Navy veteran, he wants to work with younger veterans to provide support to them. While owning and running Renovations Unlimited is George Tinney's day job, his service to the American Legion is a large part of his life.
To get in touch with Renovations Unlimited, call 504-304-6918 or email georgetinney@gmail.com.
← News and Insights