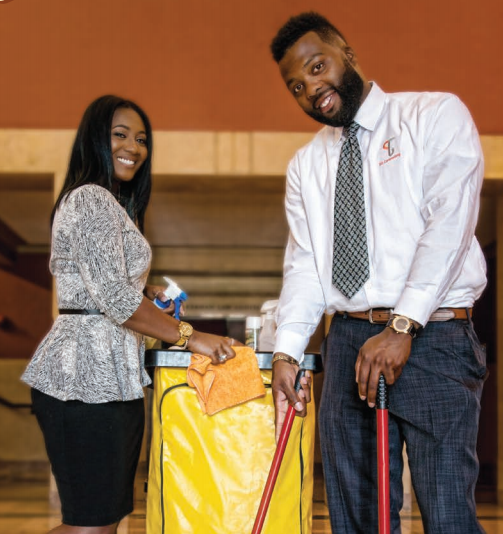 They Know Facilities Inside & Out
About SGC Services
Led by husband and wife team Justin and Samona Gaudet, SGC Services is a facility service and construction company based in Baton Rouge. After amassing years of relevant experience, the couple incorporated the business in 2014 with a vision: to provide "turnkey facility services" to Baton Rouge and beyond.
Compatible Backgrounds
While in college at Louisiana Tech University, Samona worked part-time for a large janitorial contractor. She completed her Associate's Degree and enlisted in the United States Air Force. After returning from an Air Force deployment, Samona returned to school and cleaned houses part-time. Justin's background includes real estate and home construction. His father is an electrician and his mother is a real estate broker. After obtaining his degree from Southern University, he went back to the skills he knew.
Services: "Turnkey Facility Services"
Fueled by an entrepreneurial spirit, the Gaudets utilized their combined interior and exterior property experience to launch SGC Services in 2014. Samona explained, "Justin had the construction and property maintenance experience, and I had been cleaning houses for many years. We decided that the best way to combine our experience was to think about the variety of services that properties need."
The services Samona and Justin identified— and now offer—include janitorial, building maintenance and repair, painting, HVAC, light landscaping, security, and others. If a repair requires an outside vendor, SGC hires an outside contractor, handling the process from start to finish.
Early Success
Samona and Justin took a big-picture approach to their business from the very beginning. While performing early, smallscale painting jobs, Samona was working behind the scenes to prepare for growth. She attended many trainings offered by the Louisiana Small Business Development Center (LSBDC) and the Small Business Administration (SBA) to learn office skills such as project bidding and bookkeeping. The Gaudets identified larger contracts to bid on that would utilize these skills and allow them to scale the business. The first of these jobs was a janitorial contract with BREC, a parks and recreation agency in Baton Rouge. While Samona and Justin both pitched in to clean the BREC facilities, this contract was a key step in SGC's growth. Samona explained, "We had a vision early on to build our knowledge and grow our company."
Sustainable Growth
The BREC contract was the first example of SGC realizing this vision. But the services company wasn't complacent. SGC continued to successfully bid on bigger projects, including janitorial contracts with LSU's Law Center and Office of Residential Life. This level of growth allowed Samona and Justin to get out of the field and into the office. Their reputation spread across campus, and SGC was contacted by LSU's Athletics Department for janitorial services. SGC still maintains all three LSU contracts, as well as the one with BREC. While SGC's vision is to continue to grow, Samona insisted that this should be "sustainable" growth, whereby they get new customers without sacrificing quality or service to current clients.
In the Details
Samona and Justin are taking steps that they believe will set SGC Services up for future success. These strides include extensive employee training, a safety program, and a structure that aims to best serve each client. The training and safety programs seek to standardize the quality of client service in a way that keeps all SGC employees safe. Samona further noted that SGC's staff at each janitorial job includes a Quality Control Inspector (QCI). The QCI does not clean, but instead checks the work of the employees to confirm the job is done to SGC's standards and the client's specifications. "You could say that having someone on each job who is not cleaning costs us extra money," Samona explained, "but I insist that the QCI allows us to maintain our standards, train new employees, and keep our clients happy. To me, that saves money in the long run." To learn more about SGC Services, call 225- 663-3371 or visit sgcontractingservices.com.
← News and Insights