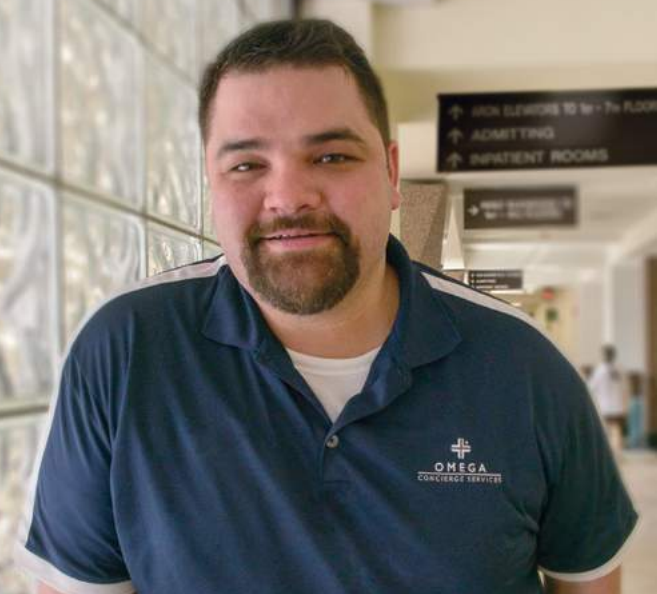 The Problem Solver
About Omega Concierge
Since 2012, Omega Concierge has provided personal concierge and valet parking services to hospitals in and around New Orleans. Under the leadership of Founder and Owner Ben Zapata, Omega has evolved from providing personal concierge services to serving a single hospital in 2012, and finally to employing forty people and serving six hospitals in 2017.
Services for Patients and Staff
According to Ben Zapata, the goal of Omega Concierge—and any hospital concierge— is to provide "entrance to exit services" and to provide the "best possible hospital experience" for patients and staff. Hospitals hire concierge companies to provide services to patients. These services can range from retrieving a favorite magazine or an extra blanket, to making calls to family members, running errands, and arranging pet-sitting for the duration of the hospital stay. Omega's Operations Manager Amber Barone, explained that—particularly for patients without family nearby—it can mean a lot for patients to have a friendly face looking out for their non-medical needs. She remembered a patient asking, "Can I just hold your hand?" For doctors and other hospital staff, Omega retrieves dry cleaning, purchases tickets to sporting events, and even drops off forgotten school projects to staff's children.
According to Ben Zapata, hospitals benefit from concierges serving both staff and patients. Serving the hospital's staff can lead to happier employees and less turnover, and allow the staff to focus on work instead of personal distractions. One reason for hospitals to serve its patients is that Medicare and Medicaid funding are based in part on patient satisfaction surveys. Furthermore, when a patient's personal affairs are taken care of by Omega, the medical staff can focus on his/her medical needs.
Before Omega
In the mid-2000s, Ben Zapata worked at a Mandeville branch of a national bank. As a former University of Louisiana at Monroe football player, Ben related to New Orleans Saints players who banked at his branch. He developed relationships with several players, and when one asked Ben for a lawn-care recommendation, Ben immediately responded, "I've got a guy." As more players recognized Ben as someone they could trust, he started offering more personal services to these players including errands, house upkeep, and others. Ben did this while working at the bank, but he eventually went full-time and formed Omega Concierge, LLC in 2009.
"This is America"
In early 2011, the NFL lockout forced players to prepare for life without an income, and they cut back on things like concierge services. Ben's business suffered greatly, to the extent that he and his wife moved in with Ben's parents. Ben took odd jobs, delivered newspapers, and considered the options for his concierge business. He never lost faith in himself or in his business. He recalls telling himself, "This is America. I am going to make this work."
First Hospital and Beyond
Through his research, Ben found that hospitals in larger cities offer concierge services. After deciding this was the direction to pursue, Ben "put on [his] suit," and attended a North Shore business lunch where the CEO of Mandeville's Lakeview Regional Medical Center was the guest speaker. Ben went up to the CEO after the lunch, introduced himself, and said, "I want to talk to you about our services." During a follow-up meeting, Ben and the CEO arranged for Omega Concierge to serve the hospital's patients and staff for one year at no cost to the hospital. Ben remembers delivering papers in the early morning, taking a nap and a shower, then heading to the hospital. He even paid his first employee with money he earned delivering papers. At the end of the first year, Lakeview Hospital kept Omega on, and Ben—armed with a proof of concept—was able to sell his services to other area hospitals. Valet parking services often serve as a tryout of sorts, giving new hospital clients a chance to see Omega in action before committing to a larger concierge contract.
Continuous Growth
Ben stated clearly that, "Our culture is the biggest part of our company." He takes great care in developing a staff that seeks personal and professional growth, and that can help move Omega forward. New employees take personality tests, and when possible, Ben shares a meal with him/her. Omega's salaried employees are required to read books, and its hourly employees are offered financial incentive to do so. Ben has a library of professional growth and self-help books from which his employees can choose, and then they turn in a simple book report. Ben asked, "How can I expect my employees to grow if I don't give them the tools to do so?" As the company grows, Ben explained, he needs people who buy into Omega's culture. He needs employees with the "problem solver gene."
← News and Insights