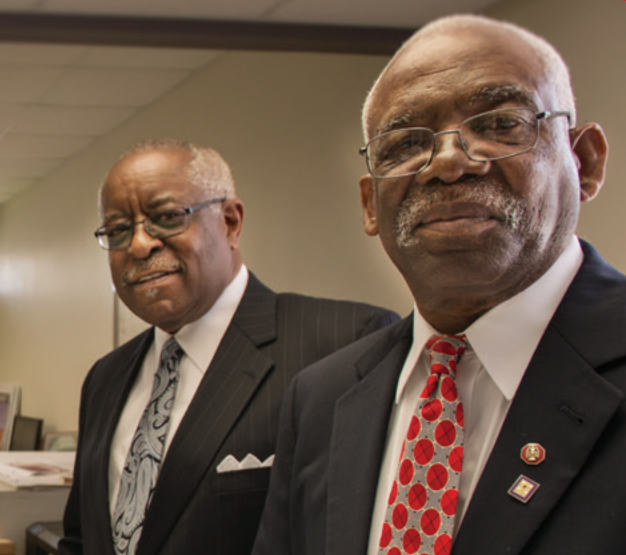 A Dream Built By Design
Led by founders and partners Lonnie Hewitt, Jr. and James Washington, Jr., Hewitt-Washington & Associates ArchitectsPlanners has designed commercial buildings in and around New Orleans since 1978.
Beginning on Campus
The story of Hewitt-Washington & Associates began in 1964 on Southern University's campus in Baton Rouge. New Orleansarea natives Lonnie Hewitt, Jr. and James Washington, Jr. were enrolled in Southern's [now defunct] School of Architecture and became fast friends. In 1968, just before graduation, they both recall joking that they planned to someday start their own firm in New Orleans. Several years later, after James Washington's military service, they found themselves working for the same architectural firm. On January 7, 1978, they founded Hewitt-Washington & Associates, reviving their past dream.
From Survival Mode to Real Architects
Lonnie Hewitt describes the decision to start their own firm as one made on, "a desire to open a firm, along with a leap of faith." The newly formed Hewitt-Washington & Associates commenced with a single project: a new single family residence for a friend of the pair. Washington describes the firm's early jobs—mostly smaller projects, such as home renovations—as "survival work." Looking to secure more commercial work, Hewitt-Washington applied to the state for the renovation of Fisher and Lee Hall on Southern University's Baton Rouge campus. Hewitt-Washington was awarded the contract. Washington describes the completion of this $8 million project in 1982 as the moment the pair were elevated to the status of "real architects."
A Professional Portfolio
Fisher and Lee Hall was the first of many large commercial projects for Hewitt-Washington & Associates. Since then, the firm has designed other university buildings, public schools, and commercial properties. Hewitt-Washington worked on the design teams for such notable projects as the Audubon Aquarium in New Orleans, the New Orleans Arena (now the Smoothie King Center), and the third phase expansion of the New Orleans Convention Center, a $192 million project. Hewitt-Washington has carved out school facilities as a practice specialty. Medard H. Nelson Elementary School in New Orleans, built in 1990, was Hewitt-Washington's first new construction project.
The firm has since designed five schools, totaling more than $40 million in construction costs, with a sixth school under construction. The school in progress, Booker T. Washington High School, has an estimated construction cost of $55 million. It is the largest solo project Hewitt-Washington has ever undertaken, an indication that a company about to celebrate its 40th anniversary is surely up for new challenges.
Fostering Growth
A big part of Hewitt-Washington's practice is mentoring. This mentorship involves both students and young architects. Hewitt-Washington has employed high school students for several summers through the Renaissance Project, an organization that connects New Orleans youth with summer employment.
Hewitt-Washington has also been a place for young architects to gain hands-on industry experience. The firm has welcomed interns from the architecture schools at Southern University and Tulane University. Hewitt-Washington offers students exposure to their projects and also encourages them to gain experience from firms with different focus areas. Architects who have passed through Hewitt-Washington's doors have gone on to start their own firms and have found industry success, including one who now runs a large architectural firm in Chicago. Both Lonnie Hewitt and James Washington have enjoyed seeing these young architects' dreams come to fruition just like the dream that was built by two college friends years ago.
To learn more about Hewitt-Washington & Associates, visit hewitt-washington-assoc.com or call (504) 286-1432.
← News and Insights