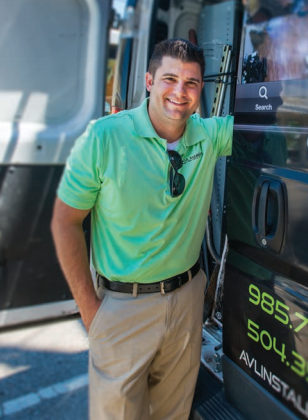 Wired for Success
About AVL Installations
AVL Installations is an installer of audio, video, lighting, video surveillance, and other IT products in commercial and residential settings in the Greater New Orleans area and the Gulf Coast. AVL Installations is owned by New Orleans native Vincent Monnin who began his entrepreneurial journey at the age of 13.
How It Started
When Vincent Monnin was 13 years old, he began tinkering with speaker boxes. A typical teenager who wanted a sound system for his bedroom, he decided to create his own. With his father and both grandfathers skilled in woodworking, he added wiring components to a handmade wooden box. Vince had his first speakers. Throughout his teenage years, the ever-enterprising Vince sold speakers to friends and neighbors.
During his senior year of high school, Vince found a magazine in which to buy wholesale car audio equipment. He passed along the magazine to his friends and classmates with the promise that he would purchase and install the radios and speakers in their cars. When Vince went to place the order, the wholesaler asked for his company name and corporate tax ID number. Although he did not have the information they requested, Vince explained, "I made a list of what I needed, and I went and got it. I registered my business, got a tax ID number, and I was in business." Vince's audio company was born.
Home Audio Only
In 2001, after graduating Brother Martin High School, Vince met a homebuilder in a restaurant. The builder was preparing to build a large housing development in LaPlace and was looking for someone to wire the houses for surround sound. Vince brought the required experience and a good price. The contractor hired Vince, marking another big step in the growth of his company.
Vince stayed busy as long as the housing market was thriving. The housing market crash and the 2008 recession made Vince realize it was time to take his business in a new direction. He decided to shift his focus to commercial clients. He explained, "Not a single contractor I worked for in my early years is still in business." But Vince is.
Shifting to Commercial Clients
Vince wanted his company's name to appeal to the commercial clients he was pursuing, specifically in the hospitality industry.
He knew that hotels, bars, and restaurants need the following services: Audio: Speakers, microphones, and sound systems Video: TVs and security cameras Lighting : For staging and security
Vince has found success providing audio, TVs, security cameras, architectural lighting, and stage setups to bars with live music, including many in New Orleans' French Quarter. AVL also serves law offices, churches, schools, and government agencies. AVL now offers other IT services including, but not limited to, Internet setup and point of sale wiring. A member of AVL's crew summed up AVL's services as "anything with low voltage electronics."
New Orleans restaurant chain Dat Dog hired AVL for its original location and continues to work with AVL as the restaurant has opened new locations. As Dat Dog plans a largescale expansion and sells franchises, AVL Installations will provide service to all new locations. Vince and his crew will install—or oversee the installation of—TVs, speakers, security cameras and monitors, Internet, phones, and point of sale wiring.
With his wife and two children in mind, Vincent Monnin has his eye on AVL's continued growth into the future. To learn more about AVL installations, visit avlinstallations.com or call 504-358-2854.
← News and Insights