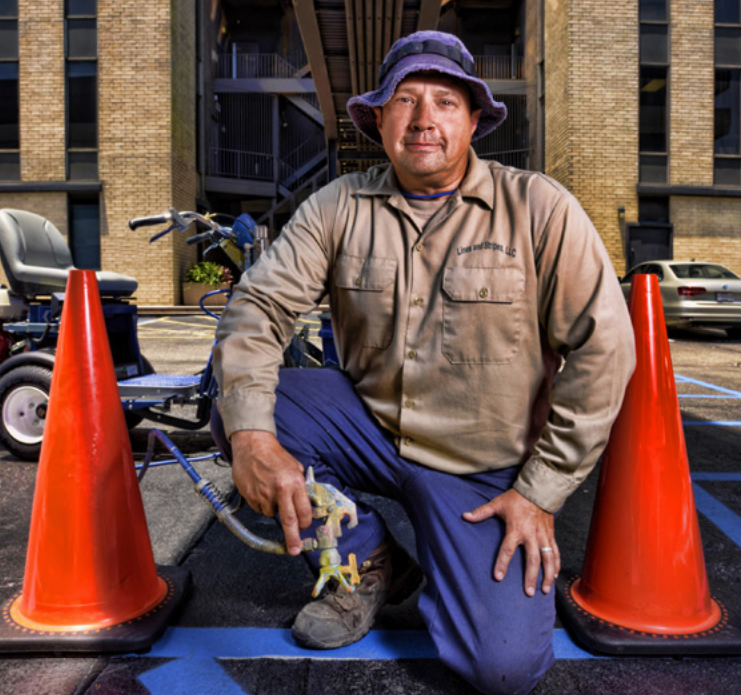 Lines & Stripes Forever
About Lines and Stripes
Based in Livingston Parish, Lines and Stripes, LLC is a parking lot striping and landscaping company. Since 2012, owner Art Marquez has improved commercial properties' curb appeal by turning worn down, haggard lots into tidy and flattering retail exteriors.
Lines and Stripes. And Landscaping. And more.
Lines and Stripes provides parking lot services to businesses throughout the Baton Rouge and New Orleans regions. As the company name suggests, Art carefully paints parking lines, walkways, crosswalks, fire lanes, and more. Moreover, Art paints arrows, custom lettering, and logos and also installs and paints concrete bumpers. Adding to the list of services, Lines and Stripes can provide American with Disabilities Act (ADA) consulting, ensuring that each parking lot is in compliance with the required number, location, and size of handicapped spaces.
In addition to painting, Lines and Stripes offers landscaping. Art explained that it made sense to add landscaping because landscaping and parking lot services are often needed at the same time. "It helps my clients because it offers them the convenience of hiring one person, and it helps my business by giving me more work." Art does landscape installation— such as laying sod and planting bushes— as well as maintenance, which includes grass cutting. Striping clients often hire him for landscaping and vice versa.
Art Marquez: US Army, EMT, and Lines and Stripes
Before founding Lines and Stripes, Art Marquez served for thirteen years in the United States Army. There, he learned discipline, responsibility, follow-through, attention to detail, and commitment, all of which are still firmly engrained within his character. "The best way I can explain it is 'mission-completeness,'" Art explained. "I carry this with me in all jobs today." He
attributes much of his success to the skills and lessons he learned in the Army. While in the Army, Art became certified as an EMT, and when he reentered the civilian world in 2003, he used that training to become an EMT for the Mandeville Fire Department. After doing this for the next several years, Art began to think about what his next step would be. He knew he wanted to start his own business and researched what opportunities were out there. Art learned more about parking lot striping and researched machinery, costs, margins, and who was offering these types of jobs. As he got closer to going into business, he marketed himself to several contractors to drum up business. After a year, Lines and Stripes had grown enough for Art to leave his full-time job.
Satisfied Customers
A large portion of Lines and Stripes' customer base is made up of commercial construction companies and property managers. These two groups frequently have parking lots that are under construction or need to be maintained, so they generally offer Art repeat business. Because they must close the parking lots while performing their work, Lines and Stripes frequently works at night and on the weekends. Art stays committed during the workweek making new connections and meeting new clients. Art's record of responsiveness, professionalism, and positive reviews allows him to build relationships and retain his customers, setting himself up for long-term success. His clients know that when they give him a job, he will do the job right the first time, and he will complete it within the time frame he promised. They know for certain that he won't quit until the job is done, and that he can be taken at his word. Art's customers appreciate that they can get many services from one vendor. They know that Art keeps his business in line.
To learn more about Lines and Stripes, and to view samples of their work, visit linesandstripes.vpweb.com. To speak with Art about striping your parking lot, call 225-939-1959.
← News and Insights