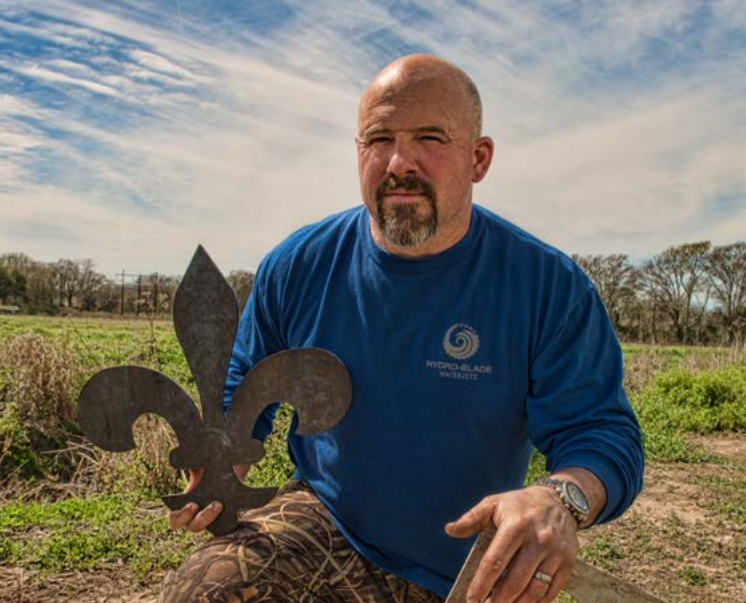 Cutting With Military Precision
About Hydro-Blade WaterJets
Using waterjet technology, Lafayette-based Hydro-Blade WaterJets provides material cutting services to a variety of clients. Founded by owner Ben Chauvin in 2008, Hydro-Blade cuts metals, plastic, rubber, and foam by harnessing the power of water under extreme pressure.
Waterjet Technology & Equipment
The process begins by laying the material on the machine's tabletop. The nozzle, which is the cutting mechanism, is attached to a movable crane-like arm. The project specifications are first loaded into the machine's computer, which directs the arm hovering over the table to automatically perform the cut. The cut is made by funneling water and sand through a nozzle at extremely high pressure, more than 80,000 pounds per square inch.
Compared to other forms of cutting, waterjets can cut a broader range of materials. When heat is used, as it is with plasma cutting, it can cause the metal to warp. Plasma cutting is also not as precise as waterjets. HydroBlade WaterJets uses a combination of both waterjets and plasma cutting in order to save their customers money when the benefits of waterjets are not necessary.
From Oil Fields to Custom Crafts
Hydro-Blade takes on projects of all sizes. Much of their work ends up as pieces and parts of oil rigs. Oilfield supply companies bring Hydro-Blade projects, and Hydro-Blade cuts the parts to the specifications. Specializing in cutting, as opposed to manufacturing, allows Hydro-Blade to keep their process moving: taking jobs, completing them, and getting them out the door. Beyond the oilfield, Hyrdro-Blade cuts parts for farming machinery, as well as projects for residential contractors. Owner Ben Chauvin and his team are also constantly working to find new uses for their machines. Hydro-Blade recently cut the metal for an airboat, and Ben has also experimented with designing and creating metal crafts.
Ben Chauvin: Marine Veteran and Self-Taught Waterjet Expert
After graduating high school Ben Chauvin spent four years in the US Marine Corp then worked for an offshore services company. He went to a technical college to study nondestructive testing (NDT), which tests how well materials—including metal—stand up to various elements. He did chemical and pressure vessel testing for oil companies, but found himself on the road, away from his wife they started their family. Ben studied waterjet cutting while still employed by an oil company. Deciding he would start his waterjet business, Ben purchased his first machine in 2007. With discipline reflective of his military background, Ben worked days in Baton Rouge and then drove home to Lafayette to spend the evening honing his craft in his shop. Once he was ready to dedicate full-time hours to his own company, Ben left his day job.
Better Every Day
Hydro-Blade's design team works closely with their customers' engineers to translate their needs into a solution. Ben encourages his staff to attend industry trainings to learn more about the craft and to grow "not just as workers, but also as people." Ben has fostered an environment of innovation where his employees feel comfortable expressing their ideas and want to take ownership of their work.
Contact Hydro-Blade
WaterJets Learn more at hydrobladewaterjets.com or call 337-257-3154.
← News and Insights