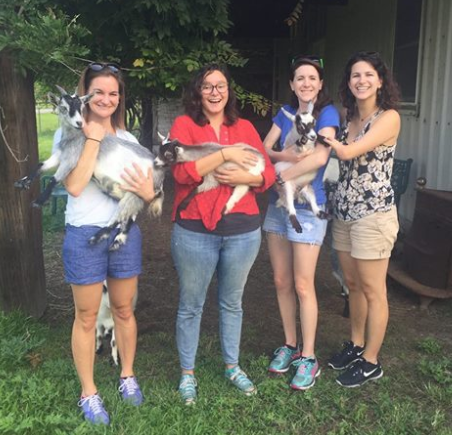 Program Manager at Stay Local
Meredith Cherney is above, New Orleans' Independent Business Alliance. She sat down with LCI to share her experiences working with Louisiana's independent businesses and explained the value of keeping money in our local economies.
Where and when did you begin working with Louisiana businesses?
After graduating from Tulane, I was placed with StayLocal as an AmeriCorps VISTA. AmeriCorps is a federal program where community members work with nonprofit organizations for one year of service. After I finished my service term, I was hired on as a full-time staff member at StayLocal.
Why StayLocal?
I have always had an internet in local economies, so StayLocal was a natural fit for me. I believe in the work as a way to empower all New Orleanians.
Can you talk a little bit about your role as program manager?
"Project Manager" means that I do a little bit of everything, including:
Helping to promote Greater New Orleans' independent businesses.
Fostering greater community knowledge about the benefits of shopping, sourcing, eating, and banking local (to name a few).
Ensuring local businesses stay competitive by hosting workshops and networking events, and performing research and advocacy work.
What is the value in building a professional network?
When you get out and meet other businesses, there is obviously the potential to meet new clients. You need to also remember that you are not just meeting an individual; you are meeting their entire network. Who knows which person could bring you your next big deal. As StayLocal, we host smaller, more intimate networking events exclusively for local businesses. We find that our attendees are all in the same boat, and they can learn from and relate to each other.
What's one book you would recommend to Louisiana business owners?
I recommend Local Dollars, Local Sense by Michael Schuman. He discusses the value of local economies, and he introduces the concept of "the cost of cheap." I think this is a worthwhile read for local businesses, and for the rest of us.
Anything you want to leave us with?
I mentioned the ripple effect before, and I want to emphasize that, I try to teach people to see the ripples that each of us creates when we choose to spend money. That is, every decision has effects that spread throughout a community.
To learn more about StayLocal, visit StayLocal.org. Meredith can be reached at meredith@staylocal.org.
← News and Insights