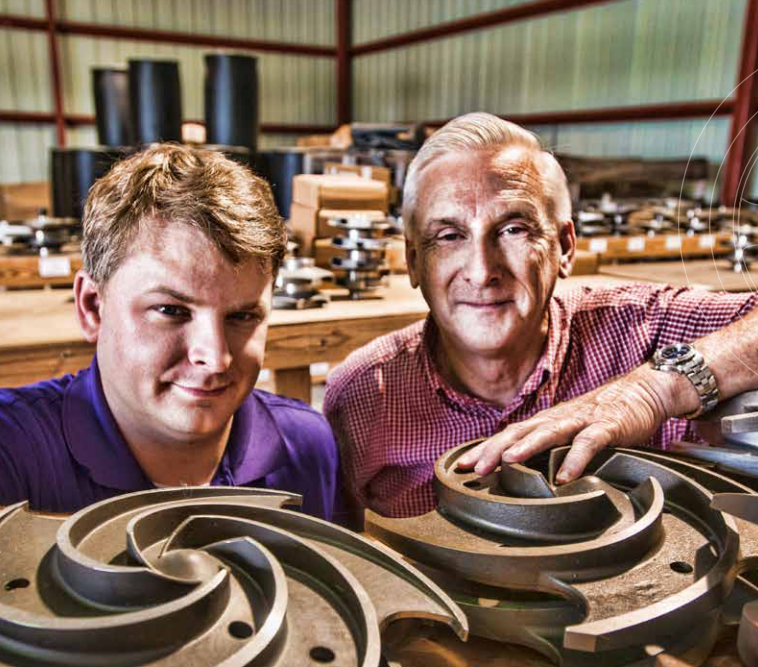 Sealing Their Own Success
About Engineered Sealing Solutions
Based outside of Lake Charles in Westlake, Engineered Sealing Solutions (ESS) is a reseller and supplier of parts and equipment used for pumps in the chemical industry. Celebrating their tenth anniversary earlier this year, ESS has offered these industrial parts to their customers since 2003. Roddy Berryhill founded the company with two business partners, but has since bought them out, one in 2004 and one in 2006. Marking a milestone in the company's history, ESS purchased Gulf South Impellers of Gonzales in 2012, which increased their assets, customers, and reach.
About the Pumps
Engineered Sealing Solutions supplies all pieces and parts of pumps, all of which meet the standards of the American National Standards Institute and of the chemical industry. The pumps used in the chemical industry have 15 major parts that come in 25-30 different sizes. This means that there are many different parts used in the plants. Pumps and their parts can either be supplied by Original Equipment Manufactuers (OEM) or After Market Manufacturers (AMM). The patents for the pumps expired in the 1990s, opening the market to AMMs. The growth of AMMs gave resellers like ESS the opportunity to compete with the OEMs.
Identifying a Niche Market
Roddy Berryhill has spent years in the pump supply industry including time spent with large OEMs. These large OEMs tend to get contracts to supply large plants with their parts on a long-term basis. Roddy noticed that smaller plants were being ignored, and he also saw an opportunity to sell to these smaller companies. The quality of OEM and AMM parts are identical, so Engineered Sealing Solutions has made a 10-year habit of supplying smaller plants with their pumps and parts.
Managing the Flow
While ESS does supply smaller plants, they do not limit themselves to these customers. They have contracts with large plants in Southwest Louisiana as AMM suppliers. In instances where the OEM does not make a particular part anymore or cannot restock a certain part fast enough, the plant turns to ESS. In some cases, ESS stocks the warehouse at the plant and maintains an accurate inventory count on site. With trips back and forth, and the ability to make last-minute deliveries, their location is integral to their success.
Additionally, Engineered Sealing Solutions works with other resellers who may have a hard time finding a particular part. They also take orders on their website, including from international customers. Each of the three members of the ESS team makes sales, manages customer relationships, takes orders, counts inventory, packages parts for delivery, and even makes deliveries.
← News and Insights