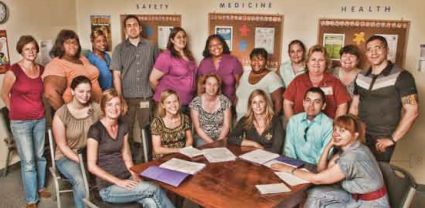 A Lighthouse After The Storm
Like a lighthouse on a rocky shoreline, The Guidance Center helps to light the path so people can make sense out of the darkness. The Center provides guidance people can use to find their way through their personal storms. This is the imagery Mike McNeil uses to describe his vision for the client-centered mental health services company he and wife Cecilia re-opened in March 2009 in St. Bernard Parish.
After Hurricane Katrina disrupted and destroyed the dreams of so many people in New Orleans, Mike and Cecilia McNeil were forced to relocate to Houston. For three and half years, the couple made the 350- mile commute home to New Orleans every week. Cecilia remembers, "We were road warriors. There was such an unmet need for mental health services, and our hearts were still in New Orleans. We really needed to come back."
In those days, the couple worked with other mental health centers in the area. The Guidance Center had no real presence at that time, but the McNeil's remained committed to the area. Cecilia recounts, "Mike had lived in this area for 34 years while serving the people of St. Bernard. People knew him, he understands the culture and people truly value what he brings to their lives."
Helping in any way possible to get metro New Orleans' other mental health providers up and running, Mike's experience as a licensed clinical social worker was invaluable to those in distress, and Cecilia's background as a medical industry operations specialist was so necessary as these organizations struggled to marshal resources.
Today, the McNeils lead a team of 8 licensed mental health professionals, 24 masters level employees and four psychiatrists. The Guidance Center is not only certified as a Mental Health Rehabilitation Facility by the Louisiana Office of Mental Health, but the Commission on Accreditation of Rehabilitative Facilities has granted the company a 3-year accreditation, the maximum offered for outpatient mental health treatment. Turning to Cecilia, Mike says, "In just over a year, our staff has grown from three employees to one of the most capable, competent and complete
outpatient mental health and addictions treatment centers in the region. Now, that's something." "You're right," Cecilia smiles nods her head in affirmation, "and we are providing about 400 hours of direct services each week to meet the needs of the people in the area."
Cecilia notes, "Mike's leadership, innovative thinking and the fact that he cares about people all help to inspire the staff. And he truly does care about the staff. He supports their efforts and their growth. These are some of the things that attract the high caliber of quality professionals that we have on our team."
Speaking to the quality of the Center's staff, Cecilia says, "We're really excited about the staff and the expertise they possess in so many different areas. Many are from St. Bernard and the surrounding area. Some came here from all over the country ready and willing to help pull this area back together. They moved here after the storm because they really wanted to make a real difference." Mike adds, "Now they love it, and want to stay permanently. Everybody in this building wants to make a contribution and help out. It's not just a job, it's a calling." Reflecting on the journey that took him from upstate New York in '72 to become a Board Approved Clinical Supervisor with a Masters degree in Social Work practicing in St. Bernard Parish all these years later, Mike sums it up this way, "We believe in education, people working towards goals. Not only the people we treat, but our staff, as well." There is plenty of hard work to do after a storm.
The Guidance Center:
700 W. Judge Perez Drive, Suite 204
Chalmette, LA 70043
504.278.4006
← News and Insights