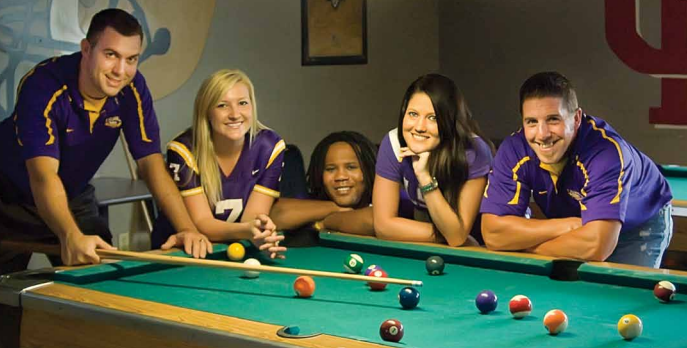 Bringing The Sporting Spirit To Acadiana
Every community has their local haunts, the places where you walk in and are instantly met with warm greetings from neighbors, friends, and colleagues. The Endzone Sports Bar is just that. Located in Carencro on Gloria Switch Road, The Endzone is one of those joints where you can sit back, relax, and watch a great game with a group of the closest strangers you'll ever meet.
Fun, rowdy, and full of energy, The Endzone is the manifestation of the Acadiana spirit. With over thirty varieties of beer and more than thirty choices of frozen drinks, you could most certainly say The Endzone holds a lot of Acadiana "spirit."
Born and raised in Carencro, cofounders Steve Mamer and Jason Stelly take a lot of pride in their hometown watering-hole. "The purpose of opening the bar was, at the time, there were no bars in town that offered the sports atmosphere," claims Jason, "it was a 'spur of the moment' idea." Founded in 2008, The Endzone has already made a name for itself in its few years of existence. In 2009, it was nominated as one of the best new sports bars in the Acadiana area by The Times of Acadiana Magazine. Open daily from 3:00 PM to 2:00 AM (and at least one hour before Saints games), The Endzone is THE place to be for sporting events. "The best time to visit the bar is during the LSU or Saints football games because we turn the sound on the loud speakers, which gives you that stadium feeling," states Jason, "everyone is wearing their team colors, and you can watch the game from any direction on any one of our eight large HDTVs."
On November 28 at 6:00 PM, you will most certainly want to pay a visit to The Endzone when LCIA hosts a Member Meet and Greet for the Saints Monday Night Football game against the New York Giants. Come out to meet Jason, Steve, and the rest of the LCIA crew, while you enjoy the game.
THE ENDZONE
917 W. Gloria Switch Road
Carencro, LA 70520
P: 337.565.6107
← News and Insights