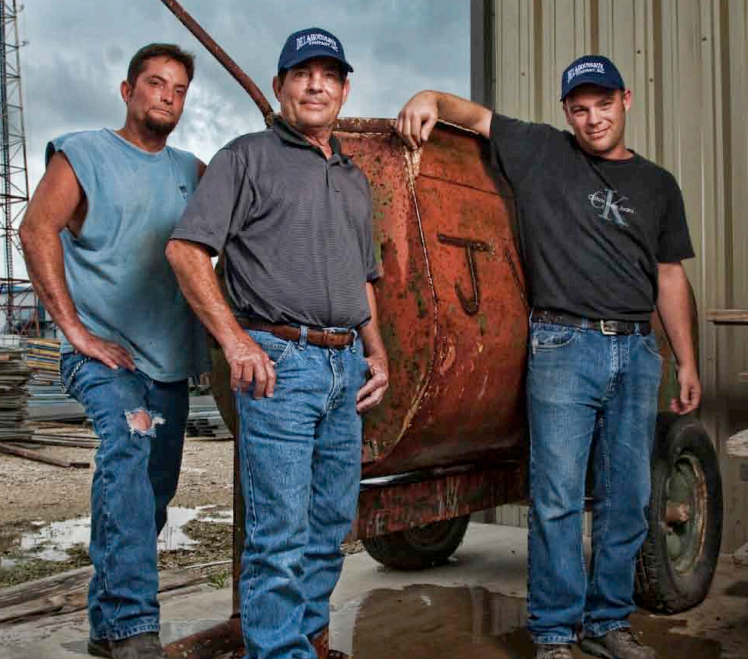 Artisans of Acadiana
More than 60 years after John Wesley Delahoussaye performed the very same centuries old, ornamental Venetian plastering techniques, the Delahoussaye family's fourth generation of Lafayette artisans practice them to this day.
John Wesley's son, Curtis Delahoussaye began working with his father in 1948 and for 36 years operated J.W. Delahoussaye and Sons. Today, Curtis' three sons Danny, Don and Richard contribute to the family's rich legacy as The Delahoussaye Company begins its 26th year.
Richard Delahoussaye is the company's project manager. "Venetian plaster is extremely durable—perfect for kitchens, bathrooms and high traffic areas. Whether homeowners are seeking to achieve a modern look or an old world decorating style, these timeless plastering techniques are perfectly suited to complement any home's interior and exterior." Clay Delahoussaye, the great grandson of J.W., learned the timeless traditions of Venetian plaster artisans from his father, Richard who proudly adds, "Clay is responsible for crafting all of the specialty items, including all the old-school plastering of heavy decorative plaster crowns. Today, he performs much of the hands-on surface preparation, repair and restoration. I taught him a lot, but he's also self-taught. What can I say, he's a smart kid."
In business since 1984, and part of a rich family tradition that extends well past the half-century mark, The Delahoussaye Company performs old-world Italian plastering and distinctive metalsmithing, in addition to a host of more traditional building techniques. In fact, the company is about to begin a significant restoration project on the old Louisiana State Capitol building in Baton Rouge. Reflecting on the upcoming project, Richard says, "I can't wait. This project is going to be an extensive exterior as well as interior renovation. Everybody's excited that we were selected, and we can't wait to get started. When we're through, that old Louisiana capitol building is going to look fantastic." Preserving the past has made the Delahoussaye family an enduring fixture in the rich history of Louisiana artisans, but the family's acclaim extends well beyond the confines of the state line. Not too long ago, The Delahoussaye Company had the opportunity to perform an extensive restoration of some Victorian style, homes in Nashville, Tennessee. Richard recalls through a lighthearted smile, "It's true, they didn't have anyone in Nashville, maybe all of Tennessee, who could complete this particular project. So they called us. Part of the unique challenge was that we had to completely strip the columns down
to the brick and then re-plaster them, top to bottom. Now, some of the columns on these homes were two and a half stories high. Just a typical day at the office."
Company President, Danny Delahoussaye believes in his team. Echoing his sentiment, Vice President, Don Delahoussaye adds, "Everybody at The Delahoussaye Company works hard to exceed the expectations of our clients. Our craftsmanship is second to none, and the team we've assembled takes great pride in providing the personal attention, skill and creativity that has become a family tradition."
Danny and Shawn Delahoussaye have an 18-year-old daughter named Shannon. Don and wife Kim have three daughters; Kristi (26), Kory (21) and Kaitlin (14)—the couple's son Kolbe is 15. Richard and Kim Delahoussaye also have three daughters; Kassie (27), Tiffin (27) and Mary (22)—their son Clay is 25.
The Delahoussaye Company:
1800 W. Willow Street
Scott, LA 70583
337.232.5007
← News and Insights