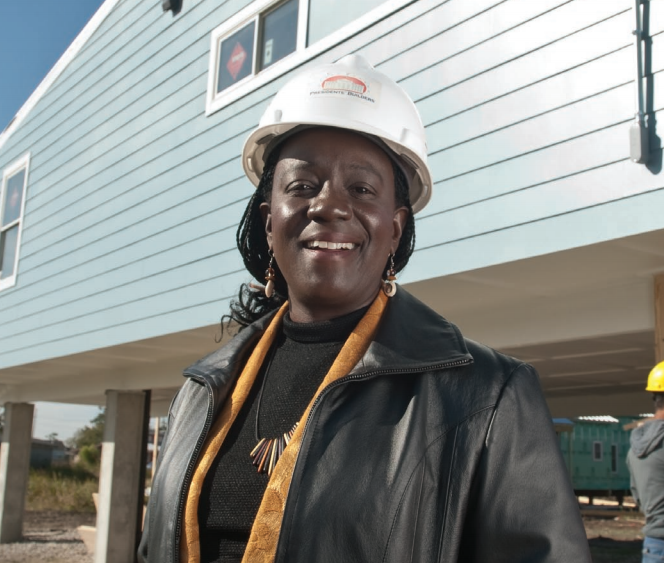 Renaissance Woman
It is an early November morning at 5018 N. Prieur as June Marshall surveys the worksite of Brad Pitt's newest Make It Right home in the 9th Ward. She leads her crew as they follow amid the scaffolding that surrounds the perimeter.
Taking a moment between phone calls and appointments, June smiles wide and describes an earlier conversation with Brad Pitt in which she described the post-Katrina landscape to the actor turned activist, "I'm concerned that locals aren't getting the work, Brad. Out of town companies are being paid $147/cubic yard for debris removal while the local contractors who were actually doing the work only received $7/cubic yard." June went on to explain, "I have a capable, local company, and I want to be part of rebuilding the city."
June must have made quite an impression, because soon after speaking with Mr. Pitt, she received a call to meet with the CEO of his Make It Right Foundation, Tom Darden, and local Senior Architect John Williams. Remembering all of the amazing things that have transpired since that day, a faithful June Marshall shares, "I'm blessed. I know this. There is divine order. There's no better feeling in the world than doing work that changes people's lives. I absolutely love doing this. I love giving people the keys to their new home."
Before starting Presidente Builders with her partner Irvin Butler, June was fixingup homes and working locally in the movie industry. June smiles and says, "The name Presidente came from Irvin, really. At the time we started the company, I was President of the National Black Women's Health Project, a Louisiana-based women's health organization, and he liked to poke fun proclaiming, 'Oh, Presidente is here!' I wasn't going to name my company BM (Butler/Marshall), and many of the more obvious names were taken, so we just went with Presidente Builders. True story."
Today, under the leadership of Ms. Marshall, Presidente Builders is poised to accomplish something truly great. Because of her hard work, and the contributions of her entire ownership team, this woman-owned, minority business is well on its way to meeting all of the strict requirements necessary to qualify as a Platinum LEED Green Builder. The Leadership in Energy and Environmental Design (LEED) Green Building Rating System, developed by the U.S. Green Building Council (USGBC), provides an international suite of standards for environmentally sustainable construction. "Its an honor to build housing that allows the lower 9th ward residents to own homes that are the highest in green building standards. These homes are non-toxic, have extremely low utility bills and even come equipped with solar-power capabilities. We're working on what may become the first completely platinum LEED community in the U.S., maybe even the world," a beaming June Marshall says.
On the future plans for Presidente Builders, June shares this, "All of us are really looking forward to our next building project. The design belongs to a Japanese architect, and we're all so excited and proud to be part of its construction. It's very, very, very important for us to always use local people." June Marshall's story is deeply rooted in the city she loves. Born and raised in Algiers, June attended O. Perry Walker High School and attended USL in Lafayette. Her mother, Barbara LeFlore was a registered nurse at Charity Hospital in New Orleans before retiring.
These days, Barbara is an avid volunteer with the local AARP and Red Cross organizations. June Marshall is the proud mother of Maya, age 23. June's mother Barbara still lives in Algiers and enjoys frequent visits from her daughter and granddaughter.
← News and Insights