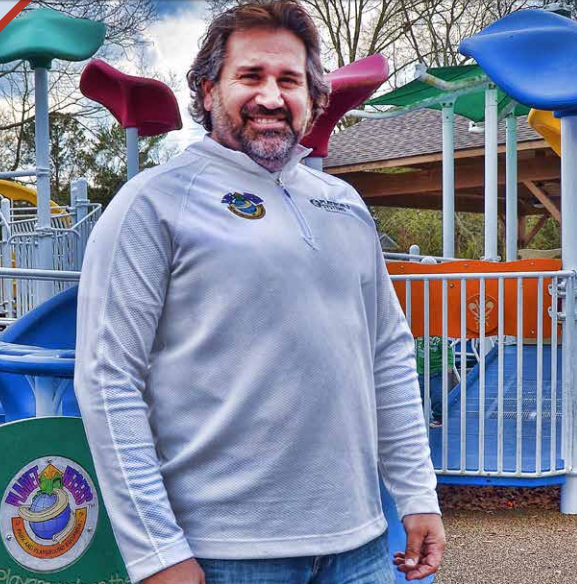 He Plays to Work Hard
About Planet Recess
Based in Baton Rouge, Planet Recess is a distributor, seller, and installer of playground and recreation equipment. Under the watch of Owner & President Treynor McAdams, Planet Recess has a team of six in the office, as well as independent sales people in the field. Since 1994, Planet Recess has designed and built custom playgrounds in Louisiana and Mississippi. Planet Recess's team takes each project from the concept and design phase to completion, ensuring it is safe and ready for children to enjoy.
From McAdams Playgrounds to Planet Recess
A Baton Rouge native, Treynor McAdams moved to Eubank, KY in 1991 to work as a youth pastor at a church. In addition, he took on a part-time job with a manufacturer of playground equipment. Treynor quickly learned the business and grew to enjoy the work. He returned home to Baton Rouge in 1992 and opened McAdams Playgrounds. McAdams Playgrounds served as a distributor for Treynor's former employer until 1994. At the time, they manufactured wooden playground equipment, but Treynor wanted to venture into metal and plastic equipment. To accomplish this, he restructured and rebranded. Treynor renamed the company Planet Recess and served as the company's owner, salesperson, and installer. 1994 was a pivotal year for Treynor, and it was just the beginning for Planet Recess.
Turnkey Playgrounds
Planet Recess provides customers with all services required to bring a project from concept to completion. Before the project begins, Treynor and his team offer site evaluation and design. They then provide demolition of old equipment and installation of new equipment, including the concrete and base work. When the project is completed, they surface the grounds with mulch or rubber and provide ongoing maintenance services. They do all of this based on each customer's needs, complying with all building codes and with the Americans with Disabilities Act (ADA). Planet Recess provides their customers with the playgrounds they want, as well as the peace of mind knowing that they will be installed professionally and safely.
Schools, Parks, and Universities
Since 1994, Planet Recess has built almost 2,400 playgrounds throughout Louisiana and Mississippi. The locations for these include schools, neighborhood parks, and housing communities. More than half of Planet Recess's playgrounds are at elementary schools. LSU's main campus in Baton Rouge is home to seven Planet Recess playgrounds. In fact, the first playground constructed by Planet Recess was at the Edward Gay Apartments on campus. LSU's campus also boasts the largest play web in Louisiana, which was proudly constructed by Planet Recess. Over the last 20 years, Planet Recess has built an important piece of towns, schools, and communities across the Gulf Coast.
Community Building
Planet Recess offers the supervision of Community Builds. If a group has the manpower for the playground but lacks the funds, they can build their playground themselves under the supervision of Planet Recess. The customer hires Planet Recess to design the playground and provide the materials. The customer brings between 13 and 300 volunteers who all work together to build the playground, oftentimes completing the project in one day. Planet Recess has supervised 475 Community Builds. They have partnered with KaBOOM! and various volunteer groups to build playgrounds in New Orleans.
← News and Insights