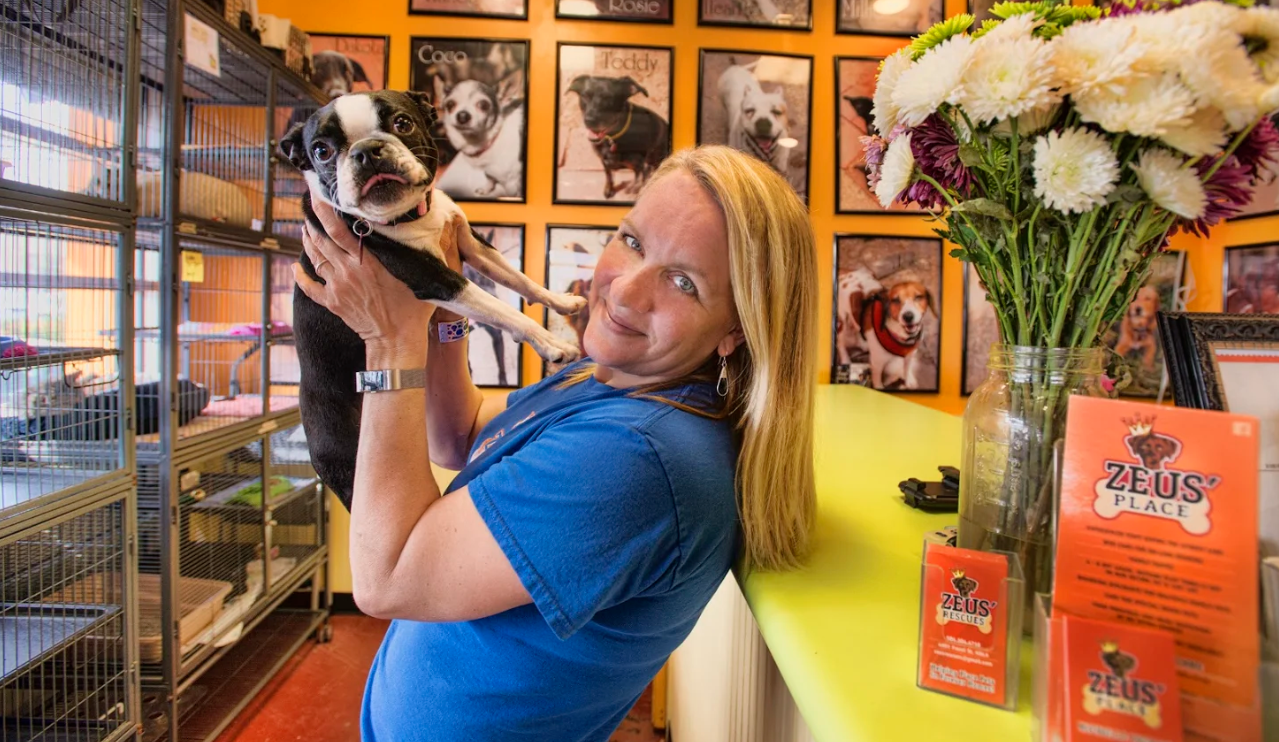 Zeus' Place is more than just a dog grooming and kenneling business. Owner Michelle Ingram started Zeus' Place because she needed a way to fund her habit of rescuing animals and finding them forever homes. Michelle has been rescuing lost and abandoned dogs and cats since she was a child growing up in Cut Off, Louisiana. Though many people "down the bayou" thought of their dogs as property necessary for hunting, Michelle's family believed animals are a part of the family. "Rescuing animals is something I've always had a passion for. If an animal isn't a member of your family, if it's only life is tied to a chain, then why do you have this animal? Why don't you find someone that might love it and want it," she questioned.
Michelle remembers her childhood years living in rural southern Louisiana fondly, saying, "It was fun growing up down the bayou. It's a small community, and there's only two roads down there. Everybody's related which makes it hard to date in high school, but it was fun because it was an easier time. We knew to go home when the streetlights came on." However, she wanted to experience the world beyond her small town, and she headed out after high school.
Not Just a Small Town Girl
She left her hometown to enroll at LSU in Baton Rouge before moving to Chappaqua, New York to go to Marymount University. She came back home to finish studying at Nicholls State University in Thibodaux, and she eventually garnered degrees in art and psychology. Michelle briefly worked at a mental health facility in Raceland before realizing that this particular line of work just wasn't for her. She then began waitressing at a local restaurant, eventually being promoted to manager. That's when her life took a major turn. "A friend of mine was a manager in New Orleans and asked me if I wanted to move here. I said, 'Desperately.' I love going down the bayou, I love crawfishing, I love being in a boat, and I love camping, but I'm actually a city girl at heart. I like to have all the restaurants available to me and everything close. After moving to New York to college and seeing what it was like there, then coming back home, I realized this is what I want," she explained.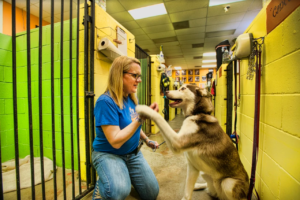 Michelle moved to New Orleans in 1994 and started working as a manager at Ralph & Kacoo's in the French Quarter, but the long hours and difficult nature of the job made her want to take yet another path in life. Her new career was short-lived, however, due to a devastating storm. "As a single female working in the French Quarter, working long and late hours, and I was living on Prytania Street at the time, there were definitely some scary nights. Restaurant work is hard, especially in the Quarter. I decided I needed to make a change and became a net admin for an international company. Then Katrina hit. I lost my house and everything I owned, and I figured I needed to do something that I love for the rest of my life."
A New Way of Life
Almost immediately after the storm hit and flooded her home, she was asked by local and national authorities to guide their boats through the flooded streets in order to find abandoned animals. She recalled, "They needed a local who knew the streets without street signs that could drive a boat and knew how to rescue animals. So I was going out with different national organizations, going to different areas of the city, and helping them find animals. They were getting calls from people saying they left their dog on some street. I couldn't help on a larger scale because I was renting a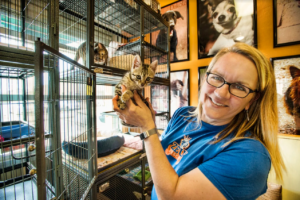 house. So I thought, 'I have to do something.'" Michelle found a building that could work as a boarding and grooming facility that would give her the income she needed to continue sheltering and adopting out animals. She opened the very first Zeus' Place on Freret Street in March 2006 just seven months after New Orleans was hit by the storm. Her business grew to include several grooming and boarding locations and one animal shelter. "I needed a way to support my rescuing habit. We opened up a non-profit about five years ago now. About two years ago, we moved the non-profit and grooming section over to Napoleon Avenue, and ten months after that, we opened up a location downtown on O'Keefe and Girard."
Zeus' Place and Zeus' Rescues have also taken in lost and abandoned animals after many natural disasters including dogs from Puerto Rico after Hurricane Maria devastated the island. When Baton Rouge was flooded in 2016, Michelle did much more than just accept animals into her facilities. "My friend lent me his party bus, a former school bus, and gave me a three-minute tutorial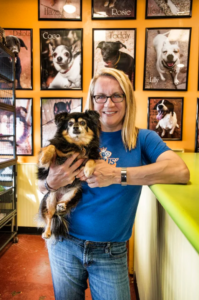 on how to drive it. I took it out to Denham Springs; they had just got the animals out of the shelter after it flooded, and they were all in really bad shape. We loaded them up in this empty party bus, and I drove it to Mandeville where there was this animal hospital waiting to take them in. I've never been so terrified in my life and happy to be able to do that. They all survived." Michelle and her employees estimated that they've adopted out thousands of animals over the past 12 years. There were 706 animals adopted in 2017 alone. She said, "We're increasing by a hundred more adopted out animals each year times twelve years. People like us, the Jefferson Parish Animal Shelter, and other rescue groups work hard to reduce the amount of euthanasia due to overpopulation, stopping the dog-fighting rings, and providing a better quality of life for those animals that live with a family who can't afford to have an animal. We do outreach to keep pets at home that may be surrendered to a shelter for lack of food or veterinary care. Yes, it's better than when I started, but there's a long way to go and a lot of work to be done. There's a lot more people like me out there now, so we start to make a bigger difference every year." For her animal-saving efforts, Michelle was named one of New Orleans CityBusiness' Women of the Year in 2018.
As passionate as Michelle is about finding animals forever homes, she spends part of her time helping her neighborhood thrive. In 1999, she bought a house just a few blocks away from where Zeus' Place would eventually be on Freret Street, and she was one of the founders of the popular Freret Market. She boasted, "I was the first business to open on Freret post-Katrina, and we would be so excited to see a car drive down the street. We said, 'One day, we're going to see a family coming down the street.' Then me and my friends Greg Ensslen and Peter Gardner started the Freret Market in the hopes that people would slow down and buy a blighted store front. Sure enough, it started getting traction. Now there's families all the time. It's just amazing to see one of your dreams happen and see it every day. I still get stupid happy when I drive down Freret Street, and it's full of people. You see people from Tulane coming down with their parents on visiting day. It takes each one of us working hard every single day to make it what it is. I was just one of the first, and I sparked a few things that led to this development. It's a big family of businesses over here."
Michelle and her husband Om whom she met through a mutual friend while working at The Volunteers of America also make time to visit their family down the bayou regularly. "We love to hang out down the bayou, drive 4-wheelers, and play on the big John Deere tractor, whatever we can find. I go crawfishing a lot," she explained. She managed to bring aspects of the bayou lifestyle to her current home as well. She continued, "I'm a woodworker; I have a full woodshop in my backyard. I build and repair things. My uncle Jimmy was a world-famous duck carver, and he has a Cajun cabin in his backyard, and I said, 'I want one of those.' I found the plans online, and me and my dad Roland built one in my backyard. Also, I'm Cajun, and my Poppee is the one who taught me how to cook, so I'm very particular about the way I want certain dishes cooked. Shrimp Creole is one of my favorite dishes ever, and I find that people cook the shrimp in the tomato sauce which makes it mealy. I usually don't order Cajun food because I want to try new things, and because I make it better."
A Good Roux
Michelle explained that if you don't have a good roux, you don't have a good meal. Her grandfather, who she refers to as her Poppee, taught her his special trick for it that has made her famous for her gumbo. "My Poppee taught me that the secret to a good gumbo is a dark roux; be patient, be slow with it, and always spice your roux. You don't spice the liquids after you add the stuff to the roux because the roux is the base of your flavor. If you're adding spice to the roux then your liquids to that, then it's a better mixture of spices then just trying to salt water. I use Tony Chachere's, sriracha, salt and pepper.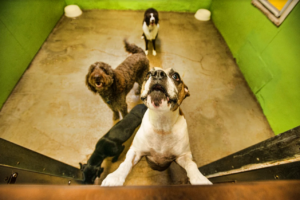 Michelle's love for cooking extends into her passion for football, especially the New Orleans Saints. Her family makes special dishes for each and every Saints game. She said, "I went to South Lafourche High School where [former Saints quarterback] Bobby Hebert is from. We Cajuns are big into our sports, so football is a huge deal. We have huge parties every Saints Sunday, and we feel that we make ourselves stronger by eating the food of the opposing team. We get silly stupid. I made Dirty Bird Gumbo for the Falcons. We had fajitas when we played Dallas. Om calls it 'fannibalism.' That's why we won; you're welcome."
You can learn more about Zeus' Place, their services, and their adoptable animals by calling (504) 304-4718 or by visiting their website at zeusplace.com.
← News and Insights