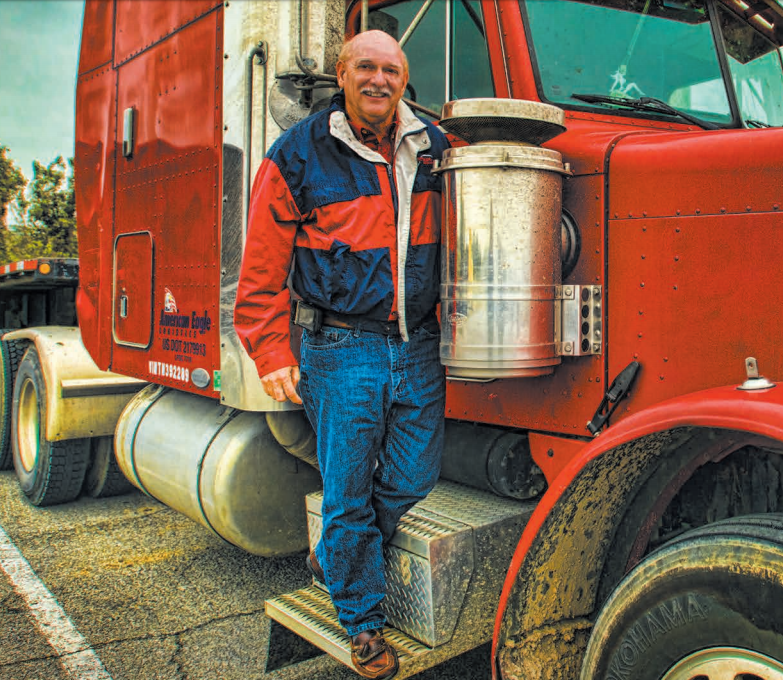 In It For the Long Haul
About Octagon
Based in Lafayette, Octagon Enterprise, Inc. is a trucking company that specializes in transporting oilfield equipment. Octagon was founded by husband-and-wife team John and Kathy Watt in 2008. With a fleet of 11 trucks and twice as many trailers, Octagon hauls pipes and tanks, as well as other rig and drill equipment, to oilfields. Octagon transports new equipment from the manufacturer to oilfields; brings broken equipment from the oilfield to a repair shop; hauls rental equipment to and from customers; and delivers replacement parts as needed. One of Octagon's main delivery destinations is Port Fourchon, but Octagon drivers have transported equipment across the state and even the country. If a client needs something transported, Octagon finds a way to get it there, never shying away from oversized loads. Octagon has hauled loads of up to 100,000 pounds using an 80-foot trailer. John is a self-proclaimed maintenance and safety stickler, constantly monitoring his trucks to ensure they stay on the road and his drivers stay safe.
History of Octagon
After spending much of his career in the RV industry, John Watt was working as a salesman at a car dealership when a customer shared his experience and successes in the trucking industry, specifically the hauling of oilfield equipment. As John further investigated this industry, he decided he could make a go of it, purchasing a single truck with a 24-foot trailer. With big plans for the future, John obtained all of the licensing necessary for hauling oilfield equipment: his CDL license, double and triple endorsements (meaning he can pull more than one trailer at a time), and a hazardous materials endorsement. Since purchasing the first truck, Octagon has grown organically, taking one job at a time and adding one truck and one driver at a time.
Most of Octagon's jobs are initiated through third-party brokers. These brokers solicit business from the oil giants and call on local businesses like Octagon to fill the needs. John is careful in the jobs he accepts, always ensuring that it is right for his business and his employees. As a local business, Octagon has been successful in forging relationships with smaller, local oilfield companies and securing business themselves.
What's in a Name?
John and Kathy Watt settled on the name Octagon Enterprise for a few reasons. Firstly, they both liked the sound of it. Second, as savvy entrepreneurs, they wanted a name that would not pigeonhole them within a particular business or even industry. Like different points of an octagon, they wanted the option to go in different directions and to explore multiple ventures under the one name and without starting over the process of incorporating a business.
A History on Wheels
John and Kathy Watt have a long history in various aspects of the transportation industry. Kathy's family owned car dealerships. In fact, John and Kathy first met when Kathy hired John to work at the family car dealership. John's love of cars is a lifelong one. While he was in college, John worked in a Firestone garage, learning auto mechanics. He also spent more than twenty-five years working in the RV industry, including owning an RV dealership in the late 1990s. John's decades of experience owning, driving, and working on cars and RVs has allowed him to forge his success in the trucking industry.
Contact Octagon
To learn more about Octagon, or to discuss oilfield transportation, call 281-703-1066.
← News and Insights