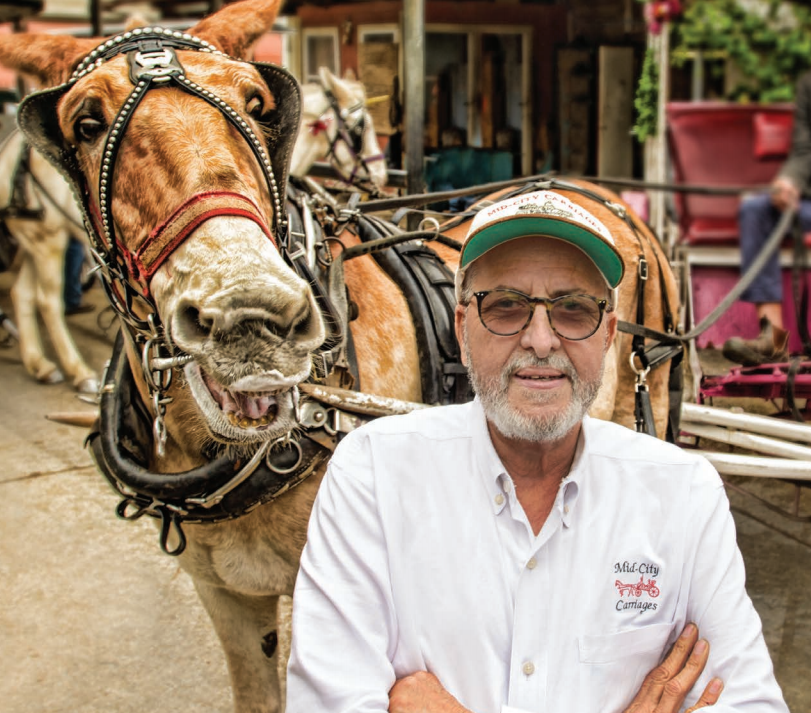 Going Out New Orleans Style
About Mid-City Carriages
Based in the Treme neighborhood of New Orleans, Mid-City Carriages offers horse and mule-drawn carriage rides. Mid-City Carriages was founded by Louis Charbonnet and is owned by his wife Simone Charbonnet and their daughter Kim. The family has owned and operated Charbonnet Family Services – including the famed Charbonnet Funeral Home – since the 1880s. Mid-City Carriages complements the other aspects of their family business, and according to Louis, "lets [the family] get out of the office."
Mule-Drawn Carriage Tours
In 1990, the Charbonnets established Mid-City Carriages to offer French Quarter tours. By New Orleans city ordinance, horse-drawn carriages are not allowed to give tours. Instead, the carriages seen carting tours are pulled by mules. Mules are stronger and can tolerate the New Orleans heat better than horses can. Mid-City Carriages possesses seven city tour permits, which means they can have seven carriages our offering tours at one time. Mid-City Carriages owns a total of twenty mules and thirty horses, which are spread between the Treme barn and an "R&R" (rest and relaxation) farm facility in Geismar.
Changing the Industry
There were several existing carriage companies when the Charbonnets founded Mid-City Carriages, all of whom only offered tours in large carriages with three to four rows of forward-facing seats. In this case, individuals and small groups join a larger group tour. Mid-City Carriages owns several of these, but the Charbonnets had a different idea. They purchased a vis-a-vis carriage, which has seats along the sides facing inward. Louis Charbonnet explained that this helped with Mid-City's early growth. "A lot of folks prefer a private, more intimate tour. Investing in our first vis-a-vis carriage made us the first company to offer this. This was big for us, and it changed the industry in New Orleans."
Weddings and Funerals
Kim Charbonnet joined the family businesses, and around the year 2000, found herself reviewing old funeral invoices. She noticed that in Charbonnet Funeral Home's past, the company had hired horse-drawn carriages for funeral processionals. Kim was an experienced horseback rider, so she had the expertise to add horse-drawn carriages to the funeral home's services. The Charbonnets then purchased a hearse carriage for funerals and a passenger carriage for weddings.
Expanded Offerings
Mid-City Carriages quickly grew and expanded their list of services. While they continue to offer French Quarter tours and to serve funerals and weddings. Mid-City's horses and drivers can also be spotted in Mardi Gras parades, such as the few that pull the King's Float in the Krewe of Babylon parade. Finally, Mid-City Carriages offers cemetery tours, as well as carriage rides at conventions, private parties, and other special events.
Treatment of Animals
The Charbonnets explained that there exists a perception that animals in their industry are treated improperly, but they insist that this is not the case with their animals. First, Mid-City's mules are limited to a five-day work week. They have day and night shifts, and each mule works one shift per day. In fact, each driver is paired with a mule, with whom they work exclusively. Mid-City Carriages rotates its animals, giving each a break at the Geismar R&R facility. Finally, on several occasions, Mid-City drivers have purchased animals as they were being retired. Simone explained, "To me, it says a lot that our employees have brought retired animals from us. They care so deeply about the treatment of the animals that they do not want to see them sold to someone else."
Look for Mid-City Carriages in New Orleans' French Quarter or learn more at midcitycarriages.com.
← News and Insights