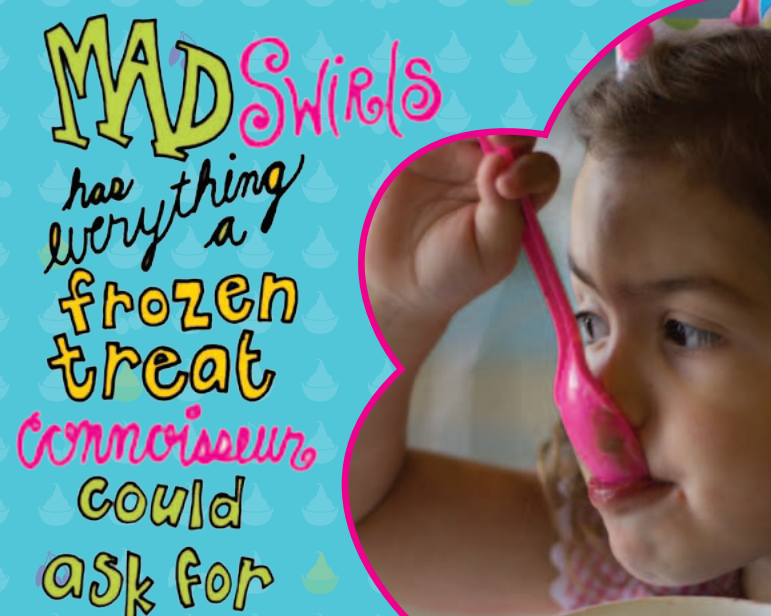 The Dauzat and Nguyen families are MAD about frozen yogurt, which is why they decided to partner to open a frozen yogurt café in their Slidell community in July of 2011. And what did they name their business? Mad Swirls, of course. With their zany flavors, electric atmosphere, and charming employees, Mad Swirls pleases the entire family.
WALKING INTO THEIR BRIGHTLY colored candyland-of-a-store instantly puts a smile on your face, and that's before you even try the yogurt, let alone the array of more than 50 toppings. In short, Mad Swirls has everything a frozen treat connoisseur could ask for. The folks over there could even be considered MAD scientists with their wacky assortment of frozen yogurt flavors. "We created our own Mardi Gras flavor earlier this year, and people could not get enough of it!" says Stacey Dauzat, one of the owners of Mad Swirls. "It was unique to our store, since we mixed it
ourselves. We also have Tiger Bait and Who Dat! flavors during football season." Masked by the decadent flavor, one would be surprised to learn how healthy the yogurt really is. "All of the yogurt is really low in fat; most of it is even fat-free," says Stacey. "It's also filled with protein and probiotics that help the digestive system." With all of the nutritional benefits and at only $0.43/ounce, who could resist indulging?
The Mad Swirls family prides itself on just that… being a family. "I bring the kids to the shop after school, and they're excited to come, since they know their friends are going to be here," says Stacey. Moreover, the Dauzat's neighbor, Debbie, even comes in regularly to lend a hand. "Stacey calls me up every now and then, and when I have the time, I come in to help out," Debbie explains, "I enjoy coming here with my grandkids." Beyond their own team, Mad Swirls shares their familiar love with the rest of the Slidell community. "The more people come in, the more we get to know them. We love seeing our regular customers and catching up with them," Stacey proudly exclaims, "We've even had the Parish President in here with his grandson many times."
With her background in communications and marketing, Stacey is a whiz at staying connected to her customer-base. Stacey utilizes social media and flyers to continuously communicate with the community. The shop regularly hosts promotions, which Stacey advertises throughout the area, particularly at schools, playgrounds, and churches. "We don't really pay for formal advertising, since the flyers and Facebook posts really have worked for us," Stacey explains, "we had 400 people come through for our $1 yogurt promotion [on May 22]–700 for the one back in January."
Some of their fun-spirited promotions include "who can build the biggest yogurt." The current title-holder is a local teenager from Pope John Paul II with his 53 oz yogurt creation. In support of academia, Mad Swirls rewards students in the area with free 4 oz yogurt for their outstanding grades and also allows them to raise money for their school by encouraging sales on a particular day, for which the store gives 10% of sales back to the school.
In less than a year, Mad Swirls has solidified its place in the Slidell community as a hub of family activity. With everyone having the ability to make their own creations, it's good clean fun for everyone. More importantly, it brings families and friends together. With the old soda shops as a thing of the past, Mad Swirls fills that hole in your heart that yearns for community and for the innocence of an ice cream on a hot summer day–for a simpler way of life. Mad Swirls is where you want to go to reward your kids after a long day at school or to celebrate a little league win or to just to get the family talking again. It's a home away from home. And you can be sure that when you visit, the folks at Mad Swirls will be there ready to greet you with a warm smile.
← News and Insights