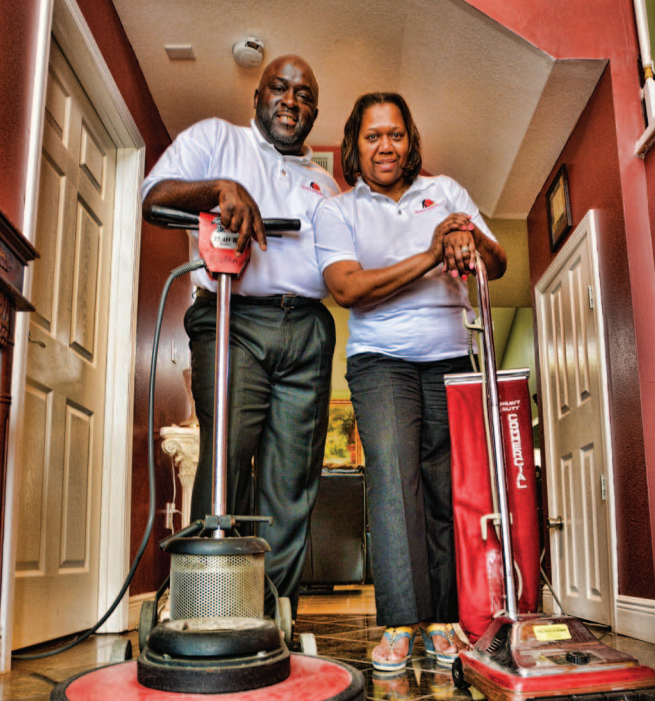 MaAKing a Name for Themselves in the Cleaning Biz
About MaAKA Janitorial
Husband and wife Matt and Anita Horne founded MaAKA Janitorial in November 2012 in New Orleans. Throughout their lives and their marriage, Matt and Anita have always dreamt of working for themselves. When they initially had the idea to start a janitorial company, they initially looked at franchises. They ultimately decided against it, and started their own venture. They feel this truly allows them to work for themselves, and affords them the freedom and happiness that stems from owning a business.
What's in a Name?
Not a conventional name, "MaAKA" holds a lot of meaning to the Hornes. It stands for "Matt and Anita's Kleen Atmosphere," and "AKA" is Anita's Sorority affiliation. Like all other aspects of the company, MaAKA's name is a reflection of its owners. It reminds Matt and Anita of their commitment to quality and it keeps them grounded.
Who MaAKA Serves
MaAKA offers both short- and long-term residential and commercial janitorial services in the New Orleans and Baton Rouge areas. Their specific services include: industrial cleaning, mold treatment & clean-up, stripping and waxing, shampooing, deodorizing, surface sanitation, party clean-up, and tiling. They boast flexibility, and will work small one-time jobs in addition to large, long-term contracts.
The "People" People
MaAKA Janitorial is a reflection of the Hornes, who believe that their people, as much as their work, make their company successful. They treat their employees and clients with the respect and courtesy they hope to receive themselves. Anita explained that she understands some clients are unsure of how to interact with the cleaning crew. She seeks to break this barrier and put her clients at ease by talking with each one of them in a personal and respectful way. By doing this, she has shown them that they are not "just the cleaning crew."
Professional Training Classes
The Hornes put their employees through extensive training before they allow them to work on a job. This ensures the safety of their employees when using cleaning chemicals and machinery. The training also ensures the quality of MaAKA's work. Additionally, other cleaning companies and hotels have hired MaAKA to teach these janitorial classes to their employees. The Hornes also offer classes on the art of interpersonal relations. Anita utilizes her degree and her social worker certification to teach such courses as "Customer Satisfaction" and "Managing the Team." Companies generally hire the Hornes to lead a seminar for their employees, but they do offer some classes to the public. These are posted on MaAKA's website, and occur three to four times a year.
Get in Touch with MaAKA
MaAKA offers free consultations and estimates for janitorial services. To speak with Matt or Anita about their janitorial services or their trainings, call (504) 473-2434 or email info@maakajanitorial.com.
← News and Insights