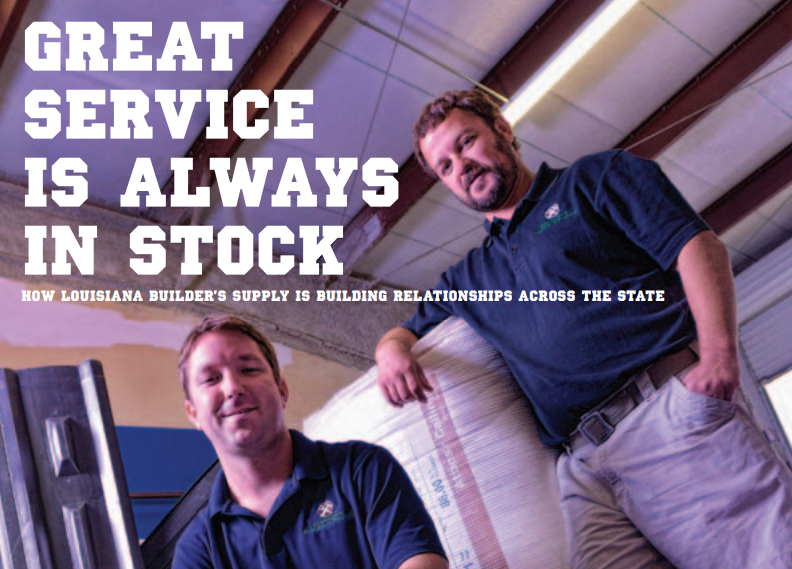 Service Is Always In Stock
Bryce French and Stephen Ethridge know a lot about maintaining personal and professional relationships. After all, the two have been friends since sixth grade when they played football together in Monroe. First teammates, then friends, and now business partners, they certainly have worked closely together over the years. Fast forward two decades, and the two have brought this emphasis on relationships to their own business. Over the past five years, they have successfully built Louisiana Builder's Supply on the principle of service above all else. When LCIA sat down with the dynamic duo, we learned the history of their Baton Rouge-based company: how a side-gig selling home fixtures quickly grew into a thriving building supply company. As a way to earn additional income, Bryce and Stephen began selling only windows to builders of multifamily residential units in 2007. Once they became successful with that, they eventually also started selling doors, hardware, bath accessories, and interior trim packages, including moldings. Five years later, and the two have since quit the full-time jobs they held elsewhere, opened their first warehouse, and expanded their products and services. They are now also selling to high-end single family homes and light commercial properties.
With their rapid growth, Bryce and Stephen had to quickly adjust the way they did business. It has been a learning process for the two partners in the past year as they have opened their first office location equipped with a warehouse. Shifting from directly supplying each job, opening the warehouse has allowed Bryce and Stephen the freedom to manage their own inventory. "We really had to reinvent ourselves and the way we do business to be able to adapt," Stephen explained. A major part of building their business has been establishing and maintaining relationships with contractors as they have gone through the bidding process. Each job starts with a set of plans, which Stephen and Bryce receive from the builder, and begin processing their bid. "Getting the plans hasn't always been easy." Bryce explained. "We used to have to hound the builders just to get the plans and provide a quote. We started receiving more plans and asking for them less, and now we even get calls requesting our bids. Builders like working with us, and that's what keeps them coming back to us." And why are more builders coming to Stephen and Bryce? Because of their personal service. "We not only give them an estimate, we include the takeoffs with our estimates," explains Bryce. While most contractors have to crunch their own numbers, this service saves the builders a lot of time, and it's one that very few of Bryce and Stephen's competitors offer. Moreover, Bryce and Stephen are always personally involved in each project. Bryce explained that their customers like dealing directly with the owners of the company. "Our clients like to see it when we, as the owners of our company, visit the job site and get our hands dirty. If there is a problem, we are the ones who respond to it. You won't just see the truck driver delivering a shipment, or call a customer service number. You meet with us. You call us."
Even more impressive is learning that Bryce and Stephen go above the call of duty. If their hardware is broken, they will personally come out and replace it. They have received calls from panicking property managers when a doorknob or lock has broken and have responded by driving out to the site to fix the equipment. "When someone can't safely lock their door, it doesn't much matter to us whose fault it is. We are out there that day to fix it," Stephen said proudly.
In describing their experience starting and growing their business, Bryce and Stephen used words ranging from "scary" and "nerve racking" to "emotional" and "rewarding." They both expressed the joy of owning, developing, and growing Louisiana Builder's Supply. They recently hired a fulltime estimator, and, as for the future, they are in the market for an office and warehouse three times the size of their current one, to include a showroom. Their growth also includes expanding geographically as they have bid on projects in Shreveport, Lake Charles, Monroe, and New
Orleans.
After spending time with Bryce and Stephen, hearing the excitement in their voices, and seeing their passion for what they do, it is not surprising that they have been so successful. They take an incredible amount of pride in how they treat their customers and in their company. Bryce and Stephen take every bit of their work personally–from their long-time friendship and partnership to their customers, and even past customers they help–which ensures that Louisiana Builder's Supply is all about its people.
For more information about Louisiana Builder's Supply, visit their website at www.labuilderssupply.com.
← News and Insights