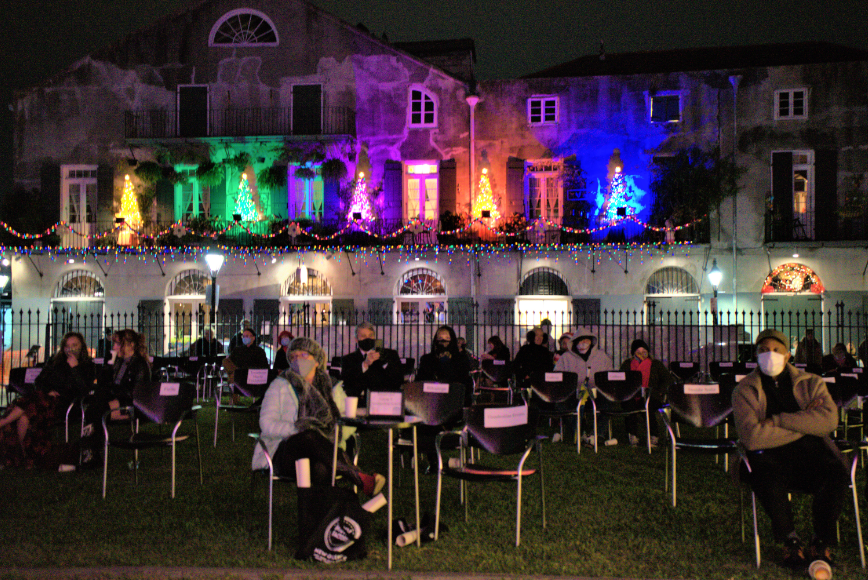 LCI was a proud sponsor of the 3rd Annual Improvisations Gala hosted by the New Orleans Jazz Museum. We have sponsored the event since its inception. Due to COVID-19 restrictions, the gala looked incredibly different this year. Four bands performed throughout the event; two were staged outside on the second story balcony overlooking the attendees, and two were staged inside in the concert hall and broadcast outside.
The Dirty Dozen Brass Band and Big Freedia rocked the crowd from on high as they sipped on hot cocoa and hot cider. Dee Dee Bridgewater and Bonerama were larger than life as their images appeared on the massive walls lining the courtyard. To keep things festive, Mardi Gras Indians and other dancers prompted people to leave their chairs and dance by their tables.
In between sets, you could warm your bones with piping hot Chicken & Sausage Gumbo, Vegan Gumbo, and Yakemein.
It was incredible to have this purely-New Orleans experience yet again in a safe manner. We can't wait to see what the 2021 Gala will hold!
← News and Insights