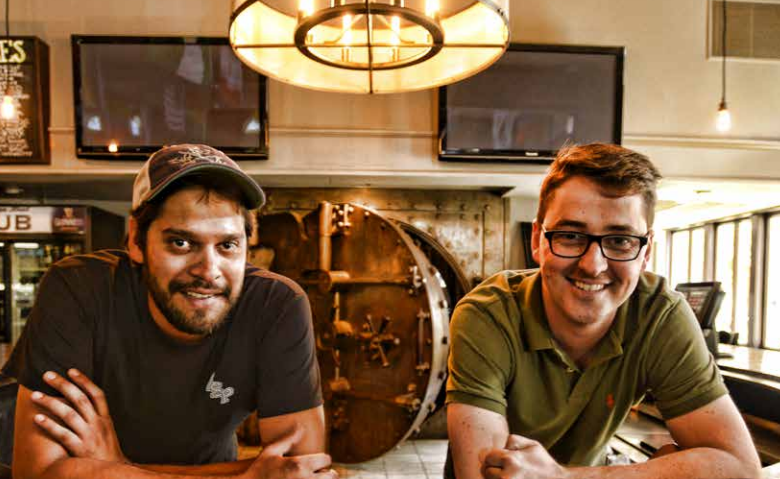 Raising the Bar for Pub Cuisine
About Jefferson Street Pub
Located in an old bank building in downtown Lafayette, Jefferson Street Pub (JSP) is a gastropub, offering high quality food and an extensive beer and cocktail selection. Gus Rezende, who owns JSP with a business partner, runs the bar & restaurant with the help of his team. Jefferson Street Pub first opened its doors in 2002 under previous ownership. At the time Gus took over in 2009, the kitchen was closed. Gus, with his 10 years' experience in the hospitality industry, decided to make conceptual changes to the business–particularly to the restaurant portion–and presented his gastropub vision to the world.
GastroPub Fare
When Gus purchased Jefferson Street Pub, his first priority was to completely overhaul the restaurant. To do this, he enlisted the help of Chef Robert Sandberg. Bringing both culinary training and extensive restaurant experience to the table, Robert helped Gus's gastropub vision–defined by Gus as, "high-end culinary bar food"–come to fruition. JSP's menu boasts both seasonal and local ingredients, including seafood and produce. The star of the menu is the JSP burger, which is a beef burger topped with roasted poblano peppers, gouda cheese, and a house chipotle aioli. In addition to its food, Jefferson Street Pub offers an impressive beer list and cocktail menu. Many of the beers offered come from Louisiana breweries.
Special Events
JSP hosts live bands on Thursday nights and DJs on Friday and Saturday nights, all the while serving food from a special late night menu. JSP also has weekly events including a running club on Tuesdays and fish taco Wednesdays. On Tuesdays, participants venture on a 5 kilometer run before meeting back at the Pub for post-run libations, and on Wednesdays, customers are treated to $2 fish tacos and two-for-one Dos Equis beers all night. To top it off, on Saturday mornings, Jefferson Street Pub hosts its Vinyl Brunch, during which guests are invited to bring their own vinyl records and play them during brunch. All of this is Gus's successful attempt at being unique and giving his customers what they want.
In addition to their own weekly events, Jefferson Street Pub is available for special events. With the ability to welcome up to 360 guests, JSP hosts parties of all kinds, including reunions and wedding receptions. Additionally, sponsoring the recent Festival International de Louisiane, Jefferson Street Pub served meals to over 4,000 volunteers and musicians, proving that JSP can handle large groups and that they are tied to the Lafayette community.
You can visit Jefferson Street Pub at 500 Jefferson Street in Lafayette. For more information or to book private events, call 337-232-5040, or visit their website at jeffersonstreetpub.com.
← News and Insights