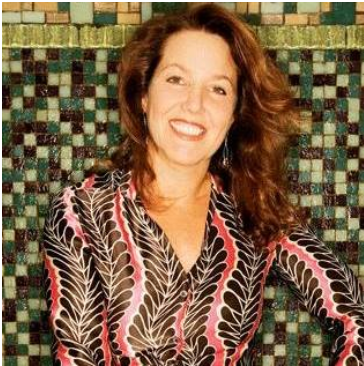 A Pattern of Following Her Passion
About Stafford Tile
Located on New Orleans' busy Magazine Street shopping hub, Stafford Tile and Stone is a distributor and seller of fine tile and stone products used in residential and commercial applications. Stafford Tile works with homeowners, architects, interior designers, and contractors to find unique tile solutions for each project. Led by its namesake, owner Peggy Stafford, Stafford Tile has contributed to the interiors of Louisiana homes and businesses since 2001.
Background in Design
Peggy Stafford was born and raised in Louisiana and attended Tulane University. She "grew up in an artistic environment" and a "house full of tile." While she always had an interest in interior design – and took one design class through Tulane's architecture school – she never envisioned making a career out of it. After graduating from Tulane, Peggy worked as a paralegal for four years in New Orleans.
Graduate school took Peggy to Boulder, Colorado in the early 1990s, where she also worked part-time in a shop that sold tile and curtains. She explained that Boulder was booming in the early 90s, with many wealthy families moving there from California. This meant that there was a lot of construction, as well as many opportunities for a young Peggy to gain hands-on design experience. In fact, demand was so high that the shop could not keep inventory in stock. Peggy summarizes these years in Boulder as "phenomenal experience for a young person."
Inspired to Move Home
Still in Boulder, Peggy founded a full-service interior design firm, Stafford Interiors. She focused on high-end fixtures and finish work, including tiles. In 2000, Peggy had the opportunity to perform her design services on a house in Mexico. She enjoyed the experience, and credits the project as her inspiration to move home to Louisiana. She likened the "joy of living" attitude among those she met in Mexico to the feeling of being home in Louisiana. She realized that "being with the people that make you happy is the most important thing in the world," and her heritage would be "the most valuable experience of all."
Stafford Tile is Born
In 2001, Peggy Stafford moved to New Orleans, and opened Stafford Tile and Stone in an 893-square foot showroom that she described as "impossible to find" but "all that was possible [for her] at the time." In the beginning, Peggy did it all: sales, design, selection, and she even unloaded the trucks when shipments came in. She credits her early success to her tenacity and commitment to her business. She explained, "Entrepreneurs know that we'll do what we need to and what we can for our businesses to succeed. There is no other option." She also credits her early and continued success to the people around her.
To Magazine Street and Baton Rouge
According to Peggy, she has an ability to "surround [herself] with wonderful people." She did it early on, and she does it today. It is not uncommon for staff members to work for Stafford Tile for ten years or more. Peggy's early success allowed her to expand her staff and move from the original Oak Street location to her current Magazine Street showroom. Stafford Tile's Baton Rouge opened in 2011, reaching more customers. Peggy Stafford explained that she is always looking for new opportunities, and in the meantime, she is "blessed with an amazing staff" who allow her to give the gift of fine tile to Louisiana.
To learn more about Stafford Tile, visit StaffordTile.com or call 504-895-5000.
← News and Insights