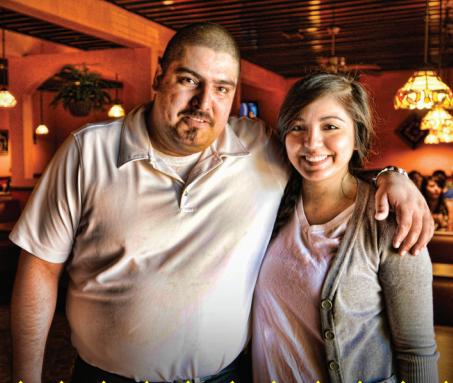 Bringing Mexican Flavor to Pineville
About El Parian
El Parian is a Mexican restaurant located at 2624 Old Marksville Hwy in Pineville. Since opening the doors in 2011, owner Antonio Ayala has offered authentic Mexican cuisine in a friendly, welcoming environment. From the moment they walk in, customers from around the Pineville area are greeted by Mexican décor including sombreros and scenic paintings of Mexican towns. El Parian serves lunch and dinner 7 days a week.
A Dream Come True
Antonio first got into the restaurant industry at age 15, starting out as a dishwasher. During the next 20 years, he worked as a busboy, server, and assistant manager, until becoming a restaurant manager in 2002. Throughout the years, Antonio held on to the dream of opening his own restaurant. While gaining valuable experience, he also saved money to help him realize his goal. When he heard the building at 2624 Old Marksville Hwy was available, he decided it was a good place to house his first restaurant. Antonio secured the financing and opened El Parian in April 2011.
From Guadalajara to Pineville
Born in Guadalajara, Mexico, Antonio moved to California with his parents when he was 14 years old. He also spent time in Georgia before a job opportunity brought his brother Moses to Louisiana, giving Antonio the chance to come with him. Since moving to the United States, Antonio has gone back to Mexico twice each year. During these visits, Antonio was able to spend time with his grandmother and learn her recipes. Without written recipes, Antonio's grandmother cooked from memory. Antonio was an eager student, wrote the recipes down, and used them to create his restaurant's dishes. Through all of their hard work at El Parian, Antonio, his brother Omar, and their sister Jennyfer carry on their grandmother's legacy every day.
Mex-Mex Cuisine
In addition to his grandmother's recipes, Antonio has accumulated recipes from years of working in restaurants, to which he has added his own personal touch. All dishes El Parian serves share one common trait: authentic Mexican (Mex-Mex) cuisine with traditional Mexican ingredients. Among El Parian's main ingredients are the cheeses (queso fresco, queso Oaxaca), meats (brisket, chicken, steak), and salsas (ranchero sauce & tomatillo sauce). El Parian's signature dish, the Molcajete, utilizes several of these ingredients and embodies the authenticity of El Parian's Mexican cooking. The Molcajete is a lava bowl filled with a rib-eye steak, chicken breast, pork carnitas, shrimp, and chorizo, rice, beans, salad, and tortillas. To ensure El Parian's food keeps its authenticity, Antonio arrives every morning at 9:30 to taste meats and sauces, and to make sure his restaurant is ready for the day.
← News and Insights