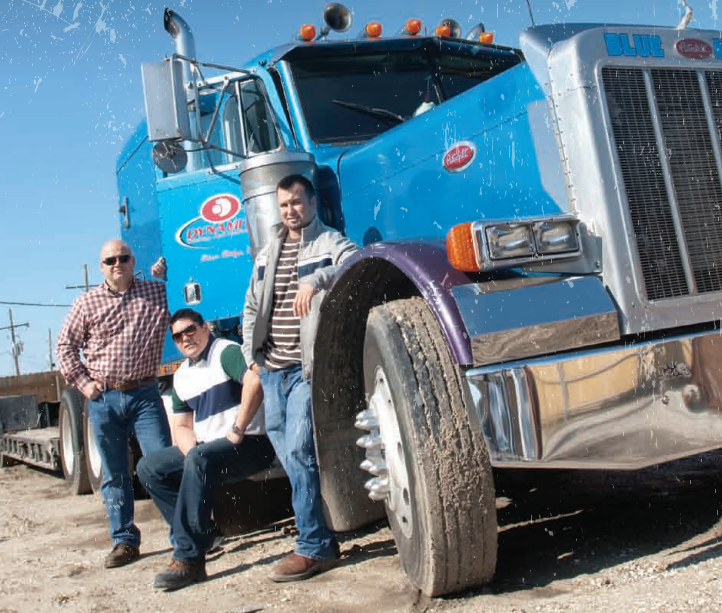 Dynamite Trio
In the summer of 2005, Keith Guidry was working in Chalmette at the Exxon/Mobil plant, and Will Lizardo was busy driving sales routes for Coca-Cola. Then, like countless others across south Louisiana and Mississippi, their livelihoods were put in jeopardy and their families were turned upside down by hurricane Katrina. Before the city of New Orleans could ever recover, before it could be rebuilt, Will and Keith had to go to work.
In those early days of the partnership that would eventually become Dynamite, Will Lizardo drove the dump truck while Keith Guidry operated the Linkbelt 210 excavator. Will remembers, "We hauled debris, excavated the grounds, whatever it took to get the job done. And we never lingered." With a wide smile and a sing-song delivery, Keith adds, "We tear it down to the ground, and move it on down-town." Over the three years that Dynamite Trucking and Demolition has been in business, it has grown to house an inventory of two excavators, two dozers, three dump trucks and a "low-boy" tractor/trailer. In fact, if you've seen a recent photo of the mayor or a any member of the New Orleans City Council wearing a hardhat, that's probably a piece of Dynamite equipment they are posing alongside.
What began as a two-man operation has continued to flourish into one of the crescent city's fastest growing small businesses. The leadership of the company has wasted no time in working to earn the certifications necessary to work for the City of New Orleans, including their DEQ accreditation and Louisiana state asbestos removal certification. As Keith Guidry puts it, "When you want it done right, call Dynamite." In early 2009, the company also added a new business partner in Sean King, Jr. Securing the contract to pour concrete for the newly constructed Holy Cross School campus on Paris Avenue meant Dynamite was going to need another leader to help the company continue to provide the superior service for which it had earned its reputation. Sean King Jr. recalls, "I grew up building houses with my father's construction company. I've been doing this since I was a kid. Once these guys got the concrete contract to work with Louisiana's Submerged Streets program, I started working with Dynamite. Now, I'm a partner responsible for supervising a crew of 32 employees." Since adding the concrete division to its 9-man trucking and demolition crews, the three partners see no limit as Dynamite continues to secure more and more contracts with the City of New Orleans. With a determined demeanor, Will says, "We're literally helping to rebuild New Orleans, and I don't take that lightly. That's why I live in the city. I'm proud of being part of everything good that's going on here." Keith continues, "We're just three average guys from New Orleans who know how to get the job done."
The partners look forward with great anticipation to the close of this year. 2010 will not only see the completion of current projects such as the Holy Cross School and Louisiana's Submerged Streets program, but also a new larger headquarters for Dynamite in Metairie. Will describes the company he helped create in 2006 this way, "What started as hauling debris and tearing up streets has grown into a company that's bidding for projects with some of the city's largest contractors. Names like Durr, Lanco and Pipeline Services are getting the job done with Dynamite. That's big."
Sean King, Jr. and wife Lacy have a 9-year-old daughter named Victoria and a six-year-old son named Sean III. Will and Kim Lizardo have a 13-year-old daughter named Sadie. Keith Guidry and Eva Jessup are the proud parents of threeyear-old Evan with the new addition of Ethan due this September.
Dynamite Trucking & Demolition Specialist and Dynamite Concrete:
2817 Harvard Avenue, Suite 103
Metairie, LA 70006
504.267.0371
← News and Insights