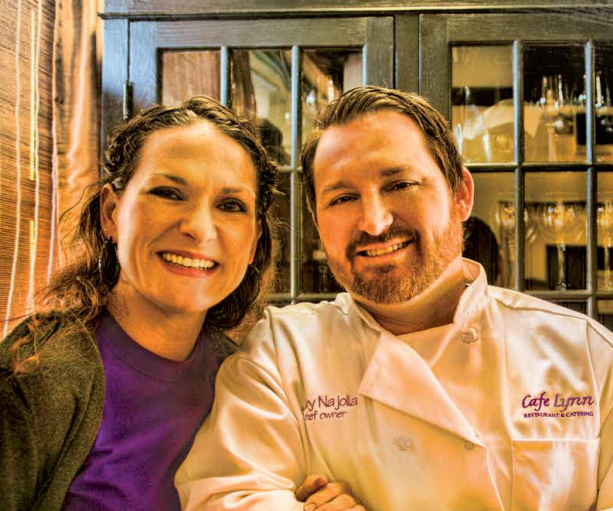 Love At First Bite
About Cafe Lynn
Located at 3051 East Causeway Approach in Mandeville, Cafe Lynn offers a fusion of traditional French and New Orleans cuisine. Husband and wife Chef Joey and Brandi Najolia opened CafeLynn in March 2007 after spending a combined 30 years in some of New Orleans's top restaurants. Led by Joey in the kitchen and Brandi in the front of the restaurant, Cafe Lynn serves lunch and dinner six days, with brunch served on Sundays. Cafe Lynn also offers catering services
Casual (and Accommodating) Fine Dining
Described by Brandi as "casual fine dining," Cafe Lynn skips the bells and whistles and lets its food speak for itself. The bistro atmosphere is warm and inviting with yellow walls and homey art. Brandi is proud of her restaurant's welcoming environment. If a regular customer orders an off-the-menu drink, it is made to order, then stored in the computer under that person's name, ensuring that it will be made the same way for that customer in the future. Dogs are even invited to tag along in the outdoor seating area. In the kitchen, Chef Joey uses the fresh ingredients to make everything from scratch – including sauces, stuffings, and even the mayonnaise, as well as desserts. The menu features fresh gulf seafood and high quality cuts of steak, prepared in French and Creole styles.
A Piece of the Whole Family
When the Najolias were opening their restaurant, they turned to friends and family to help them get the building ready. They brought art from their own house to hang on the walls, and Joey's father contributed photographs of New Orleans scenery that he shot. Brandi's father built the bar, an uncle wood-burned the bathroom signs, a former coworker from La Provence wrote a poem, and an aunt added a painting of Cafe Lynn. With every piece of the restaurant telling a piece of the restaurant's story, the diverse collection is distinctively Cafe Lynn. And when it came time to name the restaurant, since Brandi and Joey's mothers have the middle name of Lynn in common, Cafe Lynn was the perfect way to honor both of their families who gave so much to the Najolias' restaurant.
Bred for Restaurant Life
Joey's culinary training is both extensive and impressive. His first restaurant experience was as a back waiter at age sixteen. He was immediately intrigued by what was going on in the kitchen and left college to pursue culinary training at Delgado Community College in New Orleans. After school, he worked as Chef de Cuisine at La Provence in Lacombe where he studied under Chef Chris Kerageorgiou. Chef Chris also sent Joey to France for further training. After a stint at Windsor Court in New Orleans, Joey returned to La Provence after Hurricane Katrina. At the same time, Brandi learned the front-of-house functions at La Provence – where she and Joey met – then worked as a manager and trainer at Broussard's in New Orleans, returned to La Provence, and also served as a catering manager. Between the two, the Najolias had the expertise and the passion to open their own restaurant.
Lunch, Dinner, Catering, and More
In addition to business lunches and date nights, Cafe Lynn also caters private parties, both in the restaurant and offsite. Customers can rent the entire 70-seat restaurant for parties of all kinds including wedding and baby showers. Cafe Lynn will also accommodate those large parties who do not need to rent the entire restaurant. Outside of the restaurant, Brandi will bring a crew to your home or other location for a fresh meal held to the same quality standards as the restaurant.
For more information about Cafe Lynn, please visit cafelynn.com or call 985-624-9007. Or visit the Najolias' restaurant at 3051 East Causeway Approach in Mandeville
← News and Insights