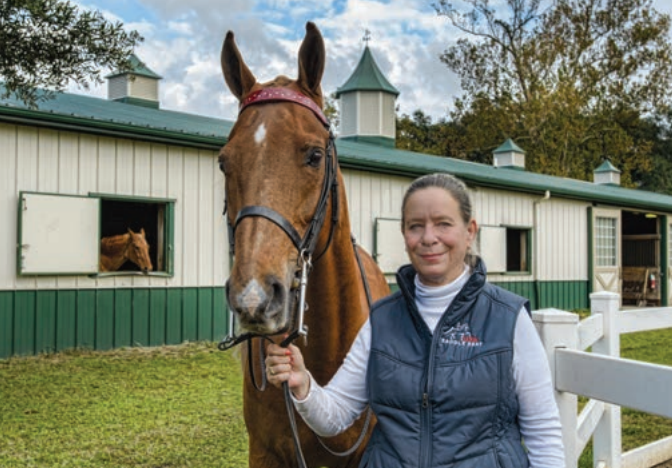 Unbridled Commitment
About Cascade Stables
Nestled in a picturesque corner of Audubon Park in New Orleans, Cascade Stables is a hub for horseback riding and lessons, as well as horse boarding and training. Owner Barbe Smith, along with her staff of trainers and instructors, provide weekly lessons for competitive riders, as well as recreational trail rides through Audubon Park. They also board many of their riders' horses to train them, and prepare them for competitions.
A Trainer, A Teacher, A Horse Lover
Barbe Smith has been on horses since she was five years old after her family moved to New Orleans. "I learned to ride at Cascade (then Audubon Stables) as a child. Some of my earliest memories of being on a horse are from right here," Barbe explains. She rode competitively throughout her teenage years and while in college. Barbe did not have any formal education in horse training, but, "I have been around horses my entire life. I have worked with them and trained them, and I learned from great trainers. This can prove even more valuable than formal training."
Barbe bought Cascade Stables in 1981, and she now shares her expertise, along with her love of horses, with a new generation of riders. While she has trainers and instructors on staff, Barbe is anything but a bystander. She is an active instructor during riding lessons, and she personally spends time training horses.
Cascade's Services: Training, Lessons, Competitions
Cascade Stables is a training, educational, and recreational facility. While Cascade offers recreational trail rides for locals and tourists of all experience levels, much of what keeps Barbe and her staff busy are the lessons and practices for competitive riders. Barbe teaches a type of horseback riding known as Saddle Seat riding. This style of riding showcases high trotting action of horses and requires a significant time investment in training the horses. With an emphasis on precision, the riders aim to display tight control over the horse's movements during competitions.
Cascade Stables owns around 20 horses, which are used for both recreational and competitive riding. Barbe works with a breeder in Missouri and has the horses sent to her when they are ready to be trained. She begins training the horses when they are two years old, and works with horses as old as 25. Cascade Stables also boards and trains horses that are owned by Cascade's riders. Barbe and her trainers work with the horses every day to get them competition-ready, and the owners come in twice each week to take lessons, practice with their horses, and prepare for competitions.
Dedication to Excellence, and The Awards to Show For It
Barbe's commitment to her craft—to her riders and to the horses—shows in the results. Cascade participates in competitions throughout the year, including the most highly regarded horse show of the year: the United Professional Horseman's Association National Championship at the Royal Association in Kansas City, Missouri. Cascade's riders regularly win awards, including four top-ten finishes in November 2015. Additionally, Cascade Stables is designated an Elite Training Facility by the United States Equestrian Foundation, one of only 13 facilities in the country to receive this designation after going through a thorough review. To top it all off, Barbe has been named the coach of the US World Cup Team for the 2016 championships. She will be traveling to South Africa in July 2016 as the team competes in the championships.
To learn more about Cascade Stables, visit cascadestables.net, or call 504-891-2246.
← News and Insights