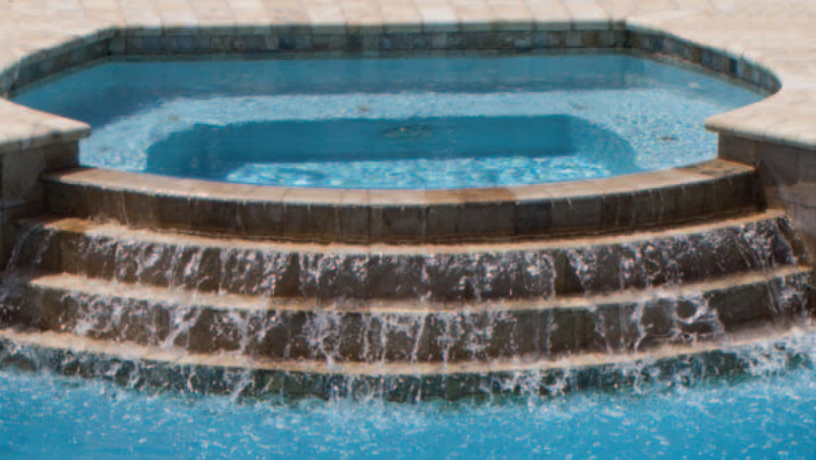 A Splash of Backyard Elegance
The first thing you notice about Kirk Nofziger is his charming, big, floppy hat, indicative of his outdoor lifestyle. The next thing you notice is his infectious excitement and the pure zeal with which he talks about his line of work. To him, it is not a job. It's an art.
Eleven years ago, Kirk jumped right into the Louisiana market having moved from San Diego, California. Since then his company, Aquatic Custom Built Pools, has sent ripples throughout Southeast Louisiana with the design and construction of their beautiful backyard oases. Having spent many years in the real estate business, Kirk waded into the pool construction business nineteen years ago in California. "I was tired of the suit," he claims.
Since then, Kirk has never looked back and continues to develop his chosen trade. Building on his experience in California, Kirk hones his craft through the continuing education programs of the international design group, Genesis 3. Moreover, Kirk's curiosity never ends. "My wife gets mad at me because she knows the first thing I do when we're somewhere is go look at the pool. I want to see what everyone's doing," he admits.
Kirk described his designs as having "simple elegance." "I'm trying to bring more of the California way to Southern Louisiana," says Kirk. Kirk designs and constructs both classically geometric and organic, free flowing pools composed of fine rock or tile with natural, earthy finishes. He also incorporates some interesting and unique customizable add-ons such as floating spas and pool bars – definitely conversation pieces.
Kirk is all about the details. He even thinks about the sounds the pool is going to make. "I design the water falls keeping in mind how they will sound. You want it to be relaxing," he explains. Currently, Kirk is very impressed with glass tile and wants to incorporate more of it into his designs. "Glass tile is really beautiful, but it hasn't caught on down here. I really want to spread the word about these tiles." From start to finish, Kirk is always on site, making sure he is delivering the best product he possibly can. He prides himself on his work and on his thoroughness. "I'm always here making sure the work is getting done," he states." In addition to his fine product, Kirk strongly believes in having a relationship with his clients. He builds 12-15 pools a year and much of his business comes from referrals from satisfied customers.
One of those customers happened to be Sean Payton. "We built a pool for Coach Payton when he first got here. Coach Payton specifically wanted two separate areas in his backyard: one for coaches to meet and one for their kids to play and swim. So we accommodated his needs."
Another one of Kirk's happy clients, Vicky, graciously allowed LCIA and Aquatic Custom Built Pools to invade her house for the In Good Company photo shoot. Smiling, Vicky looked at the crew and said "you know what my biggest complaint about my pool is? I drink way too much beer now!"
Putting his words into action, Kirk made one final gesture as we picked up to leave Vicky's house: he offered to come over to repair her grout work for free. "You do that for people because it comes back to you." As for Kirk's future plans, it doesn't seem like he'll be jetting out of Louisiana anytime soon. "My wife and I love Louisiana. We love the people. They're so nice here."
← News and Insights