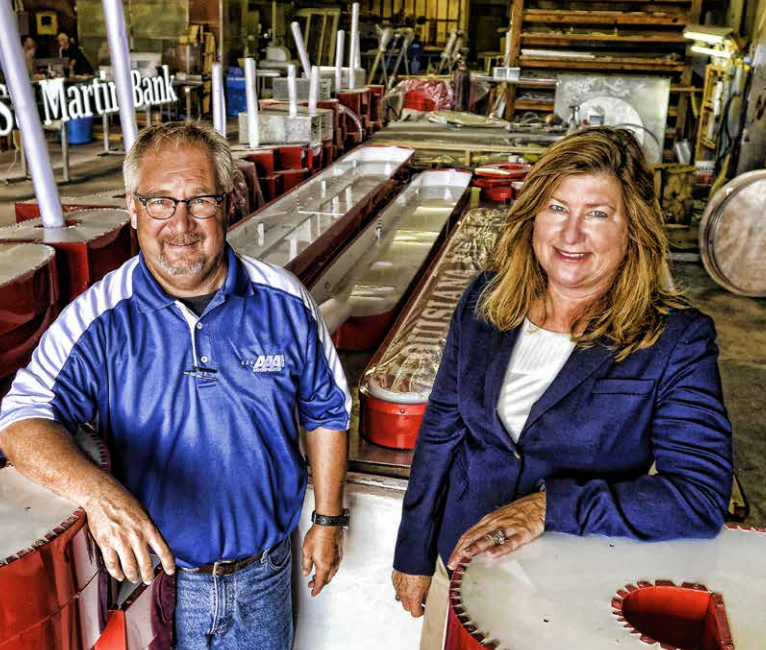 Sign Language
About
Based in an industrial part of Lafayette just off the I-10, AAA Signs is a full-service sign producer. Working out of a 70,000 square foot warehouse that once housed Sunbeam Bakery, AAA serves as sign seller, designer, manufacturer, installer, and repairer. Since 1984, AAA Signs has designed and built custom signs under the leadership of Owner and President Dianne Stelly.
History: "Sign Business is Good"
Back in the early 1980s, Dianne was selling real estate in Louisiana while her husband, Ken, played minor league baseball in New York. After retiring from baseball, Ken returned home to make a career out of graphic design. Up against the 1980's recession, Ken was unable to find an agency job. In the meantime, he painted signs for his wife's real estate business. The pair received
the advice that "The sign business is good," and that was enough to pique their interest. They developed a six month plan to purchase AAA Signs from its original owner. AAA nearly doubled in size each year for the first five years Dianne owned the company. Thirty years later, AAA is a leader in its field.
The Whole Package
When Dianne says AAA offers "turnkey sign solutions," she means it. From brainstorming and researching to installing and maintaining, AAA does it all. AAA's services can be summarized as follows:
Brand Identity & Consistency
Regardless of the size of the customer's business, AAA takes great care of its visual identity. For smaller customers, this can mean selecting fonts and colors when designing a sign, which can ultimately define the business's brand. For larger, national customers, AAA takes great care in ensuring that its signs are consistent with the business's visual identity. This typically consists of perfecting logos and colors.
Manufacturing
AAA builds its sign products from scratch in its Lafayette facility using a variety of materials. AAA's signs include aluminum light-up signs, plastic signs created from a wood mold, and vinyl signs. AAA offers additional manufacturing services including attaching LED boards to its signs, creating decorative elements such as railings and awnings, and building monument-style signs.
Installation
AAA has the equipment and the expertise to install its custom-built signs. AAA also has relationships with other sign manufacturers across the country to entrust the installation of each other's signs. AAA ships its signs to these other companies for installation, and, reciprocally, AAA also installs for other manufacturers.
Code Research
Every city and town has its own ordinances regarding signage. In some places, there are height restrictions, and in others, lightup signs are not permitted. AAA researches local laws on behalf of its clients, and then designs the sign to conform with local laws.
Maintenance
AAA offers maintenance on its signs. This includes repairs and the replacement of light bulbs.
Customers
Because nearly every business needs a sign, AAA has had customers in a wide variety of industries. AAA has found success in restaurants, casinos, and oilfields. Its different offerings prove to be beneficial, as restaurants tend to use light-up signs and casinos like to use video signs. AAA's customers are all across the country and vary from local businesses to national chains.
One customer of note is Popeyes Chicken. As one of four sign manufacturers approved by Popeyes, AAA not only creates the signs but also builds railings and awnings for the national chain. This relationship first came about when Dianne and Ken were starting out. AAA has worked with Popeyes since the mid 1980s.
Need a Sign?
If your business needs signs, banners, or even decals printed on your truck, call AAA Signs at 337-233-5686. You can learn more about AAA at aaasigns.com.
← News and Insights